Must-Remember items for a Business Trip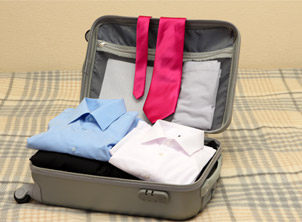 Frequent business travelers each have their own routine when it comes to packing for a trip. Travel often enough and you know which clothing items work and which shoes are the most comfortable for long days away from home.
We hope that you'll remember the everyday items such as your phone and business cards, but what about those items that could be useful but that you may not think about? The UNIGLOBE Experts suggest a few items that you may want to throw in your carry-on on your next trip.
You can pack all these items in a pouch that stays in your carry-on bag, so that you never have to scramble when packing.
Electronics Needs
How many times have you gone somewhere and realized that you've forgotten your phone charger in the office or at home? Invest in an extra USB phone charger. This will allow you to charge your phone while on the move as more planes have USB ports than power ports. Or plug into your laptop while in a cab.
There's also a cool little device called a Magicstick (the size of a lipstick), which holds a charge in a lithium ion battery, that can be used to charge your phone or other device. The catch is, you have to remember to charge it before you want to use it.
Consider moving your computing needs to a cloud computing app such as Dropbox. This means that your documents will be available to you anywhere you have internet, whether you're using your laptop or another computer.
Need to Make Quick Repairs?
You're down to your last clean shirt and you have a very important meeting on the last day of your trip. Getting dressed, a button comes off in your hand. This would be a great time to whip out that useful little sewing kit that you've thrown in. Many hotels have them available, but consider how small it is to bring with, do you really want to risk it?
Or, you're pulling your suitcase through the airport and all of a sudden the handle snaps? Pack a couple of plastic zip ties. They take up almost no space and are useful for fixing all kinds of things.
Have trouble sleeping in a hotel room?
If you are sensitive to light, when sleeping, you may find that many hotel drapes don't overlap completely. Or that they are located by the air conditioner or heater and are constantly moving with the blowing air. Carry a binder clip or two in your emergency pouch and problem solved. Clip the drapes together to minimize movement.
Ear plugs can also be a lifesaver for light sleepers, although be aware it may also mean you don't hear your wakeup call in the morning!
Traveling internationally?
You may want to consider traveling with an unlocked phone. This will allow you to purchase a local SIM card in your destination, saving your company hundreds of dollars in roaming and long-distance fees. Prior to leaving home, you'll have to check with your mobile carrier as to whether or not this is possible. If not, take an older model phone that is no longer under contract to a US carrier.
Many experienced international travelers will tell you that their number one must-have is Global Entry. The U.S. Customs and Border protection program that allows expedited clearance upon arrival in the United States can save hours waiting in endless customs lines. As a pre-approved, low-risk traveler, you can proceed directly to the Global Entry kiosks where your passport will be scanned, your fingerprints analyzed and your customs declaration made. You'll then receive your transaction receipt and be directed to baggage claim and the exit.
Applicants undergo a rigorous background check and interview in order to enter the program however, the time saved is a huge incentive to becoming a member.