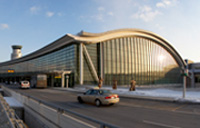 As Canada's largest and busiest airport, Toronto Pearson is the gateway to the country. As a hub for approximately 400,000 flights a year, it sees 32 million passengers annually. That's the equivalent of almost the entire population of Canada passing through the airport every year.
Getting around: While there are only two terminals at Pearson airport - Terminal 1 and Terminal 3 – it is a large and potentially confusing airport to navigate. Use the complimentary shuttle which operates 24 hours a day, to travel between terminals or to the Sheraton Hotel. You'll require a minimum of an hour to connect in Toronto and up to 90 minutes, depending on whether or not you have to clear Customs and change terminals.
Starting in March 2013 the Terminal LINK train was temporarily replaced by a bus due to the construction of the Union Pearson Express Station. This new train station – with service between downtown Toronto and the airport - is located at Terminal 1 and is expected to be operating by Spring 2015.
Dining: In 2011, Toronto Pearson made a commitment to refresh dining options and provide a food and beverage program to rival any airport in the world. Some of Toronto's best chefs have been brought in to staff 13 top restaurants. Only a few of the new restaurants are currently open, but most will open before the end of 2013. All are located in the secure area of the airport.
You can currently eat at Boccone Trattoria, located airside in Terminal 1. Here renowned chef, Massimo Capra offers fresh, rustic Italian cuisine. Or try the Heirloom Bakery Café, also in Terminal 1, where you'll find light, healthy entrees and delicious baked goods. All items are created with the freshest locally-sourced ingredients.
Restaurants to watch for in the upcoming months include Acer (Terminal 3) for outstanding Japanese cuisine, Marathi (Terminal 1), offering a menu of Indian street food and Trillium, a global tapas restaurant.
Relaxation: Toronto Pearson offers several changing art exhibits throughout Terminal 1. Or, if art isn't your thing, travel back in time and check out the two dinosaur skeletons, also found in Terminal 1.
Wi-Fi : Wi-Fi is free throughout both terminals of the airport.
Official Airport website: http://torontopearson.com/