TSA Wait Times Getting You Down?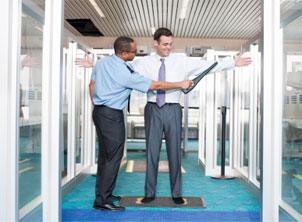 We all know how frustrating it is to line up for hours to get through airport security. Now there's a new website, WhatsBusy, which can project Transportation Security Administration (TSA) wait times at the top 100 U.S. airports.
Developers spent a year working with the TSA in order to understand things such as checkpoint lane setup, processing times and more. Using real-time data supplied by the TSA and airlines, as well as weather and traffic patterns it is able to predict wait-times with unprecedented accuracy.
Using the site is easy as you simply enter the airport name and the time you plan to arrive and immediately a display shows you the projected wait-times. The display is broken into 30 minute increments and shows wait-times for each individual terminal, as well as being color-coded for easy reading. Green is a 0 – 10 minute wait, yellow is 11 – 20 and red is over 20 minutes.
In addition to projecting wait-times at airports, WhatsBusy also has wait-time data for museums, National Parks and DMVs. Coming soon is information for parking lots and restaurants.
Keep in mind that the site is using analytics to determine its information and you might want to give yourself a little extra time, even if it appears there is no wait.