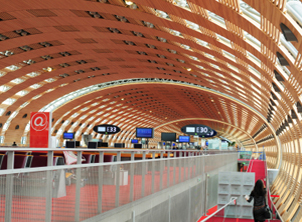 Paris Charles de Gaulle airport is France's largest airport and the second busiest in Europe, after London's Heathrow. Named after Charles de Gaulle, leader of the Free French Forces and founder of the French Fifth Republic, it is also referred to as Roissy airport.
Getting around: The airport is massive, with three terminals and two satellites. Terminal 3 services mainly charter and low-cost carriers, while terminals 1 and 2 and Satellites 3 & 4 serve the rest. The CDGVAL is a light-rail shuttle that links the terminals, railway station and parking lots.
The SNCF rail station is located in terminal 2, with access to the TGV South, West and North lines. There are also a number of bus lines – including the Air France les Cars - offering shuttles to Orly airport and downtown Paris. Travel time to the city is approximately one hour. A taxi ride to the city will cost approximately €50.
Dining: If you're looking for typical French fare try Brasserie FLO, an off-shoot of a bistro in downtown Paris. Although menu items change seasonally you're likely to find such favorites as escargot, onion soup au gratin, steak tartare and duck confit. Located in the public area of Terminal 2F.
For exceptional seafood, try Caviar House & Prunier, found in the secure area of terminal 2E. They claim to offer the finest caviar and smoked salmon in the world. Sit at the bar and watch your meal be prepared, then see if you agree.
Ladurée, located behind security in terminal 2E offers breakfast and lunch as well as take-away food. One of a chain of famous Parisian tea rooms, it also offers a selection of macarons, cakes, chocolate and other confectionary. A box of Pink Pepper or Gingerbread macarons might make a wonderful gift to take home.
Relaxation: In the departures satellite of terminal 2E is The Galerie Parisienne, a video lounge designed in partnership with Sony. Here you'll find five modules of seating - with built-in speakers and 3D HD screens – showing the latest movies at no charge. Or take a quick moment to unwind with a quick massage at the Be Relax Spa.
Wi-Fi: The airport offers 15 minutes of free Wi-Fi. Costs for additional blocks of time are: 30 minutes - €1.90, 90 minutes - €4.50, unlimited - €9.90. Wi-Fi passes remain valid for 24 hours after you first log on.
Official Airport website: www.aeroportsdeparis.fr