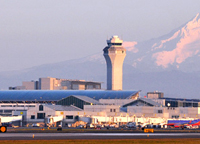 Portland consistently ranks among the nation's best airports. Travelers named Portland International (PDX) the best airport in the US in an October 2013 Travel+Leisure survey and four times (from 2006 to 2010) in the Conde Nast Traveler Business Travel Awards. Reasons for loving the airport include: an easy light-rail connection to downtown, free Wi-Fi, great local food and drink and tax-free shopping.
Getting around: The airport is comprised of a North and South Concourse, with concourses A – C in the South concourse and D – E in the North. There is a Concourse Connector to facilitate easy movement between the two buildings. This passageway allows passengers who have cleared security to move between buildings without additional screening. Moving sidewalks provide fast and easy access between concourses.
TSA Pre-Check and express lanes are available at security checkpoints for those who qualify.
The pickup area for taxis, town cars, hotel vans and parking lot shuttles is located in the center section of the airport terminal's lower roadway, on the baggage claim and departures level. Transportation to downtown Portland takes 20 – 40 minutes. Tri-Met's MAX Red Line light rail service connects the airport to downtown, with a trip-time of 38 minutes and a cost of $2.50.
Dining: For a great Oregon microbrew and pub food, dine at LaurelWood Public House and Brewery, which is ranked the fifth largest brewpub in the United States. Their two airport locations are found on Concourses A and E.
Newly-renovated Sandoval's Tequila Grill is a full-service, authentic Mexican restaurant and bar – located on Concourse C - that serves breakfast, lunch and dinner…as well as over 200 different tequilas. Or visit Sandoval's Mexican Grill in the Oregon Market, for cooked-to-order items ranging from breakfast burritos to full dinner combinations.
Relaxation: The PDX Arts and Entertainment Program is designed to offer an insight into the dynamic cultural life of the Pacific Northwest. You will find a diverse collection of art and rotating exhibits, along with a variety of musical entertainment to occupy you at the airport. Or, if the arts don't appeal, while away the hours at a branch of the iconic Portland bookstore, Powell's Books.
Wi-Fi: Free Wi-Fi is available in 70% of the airport terminal's main level, which includes most gates, the Oregon Market and food court and lobby areas near the north and south security checkpoints.
Official Airport website: http://www.portofportland.com