Using Personal Electronic Devices (PEDs) Onboard Flights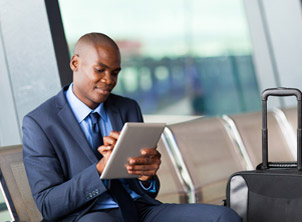 As most frequent travelers probably know by now, effective October 31, 2013, the FAA has determined that airlines can safely expand passenger use of Portable Electronic Devices (PEDs) during all phases of flight. There is understandably some confusion over what exactly this means to the traveler. Your UNIGLOBE experts are here to add some clarification.
Can I use my PEDs on all airlines and all flights?
Delta and Jetblue were the first to announce that they would allow gate-to-gate PED use on their flights. They had a couple of day's head start on the other carriers as they were on the FAA steering committee on this subject. Within a week of implementation of the new rule, American, United, Alaska Airlines, Virgin America and US Airways had all gained approval from the FAA to also offer the service. Hawaiian Airlines is the latest participant. The situation is changing weekly as more carriers gain FAA approval.
While most carriers are currently allowing it on their 'mainline' flights, you likely won't see it on regional/express/connection flights until the end of 2013.
Can I use any PED from gate-to-gate and do I still have to turn it off during takeoff and landing?
PED use on the ground, during takeoff and landing is limited to smaller devices weighing less than two pounds. Laptops and devices larger than a tablet must be stowed for safety reasons.
The new ruling means that you'll be able to keep on reading e-books, playing games and watching videos during take-off and landing. All PEDs must be in airplane mode.
Is Wi-Fi available from gate-to-gate?
Currently Southwest Airlines is the only carrier offering widespread gate-to-gate Wi-Fi. Most other carriers will still only offer Wi-Fi over 10,000 feet, due to technical limitations of their Wi-Fi provider. Other carriers will likely introduce aircraft that have the capability of Wi-Fi under 10,000 feet shortly.
Does the new ruling apply only in the U.S.?
Once the FAA had approved PED use, the European Aviation Safety Agency voted to approve the use of PEDS during takeoff and landing in Europe. Expect to see this in effect by Christmas 2013. PED use is not yet approved for takeoffs and landings in many countries including Canada and Australia.
Can I make voice calls on my cellphone during the flight?
Currently, voice calls cannot be made during takeoff, flight and landing. However, the Federal Communications Commission (FCC) is reviewing the option of allowing calls while in flight – so watch for possible changes to this rule too. If the change is authorized it will be up to each individual airline as to whether or not they allow it. The topic is being hotly debated by the airlines as surveys are generally indicating that most passengers would prefer not to have to listen to other's conversations.
These rules haven't changed in over 50 years so it will take a while to work out all the wrinkles and you may find the situation varies from flight to flight until the airlines have figured things out. Be patient with them…after all, things are moving in the right direction.