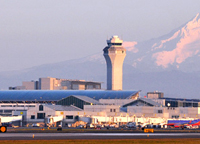 San Diego International Airport (also known as Lindbergh Field) is located three miles northwest of downtown San Diego and is the busiest single runway commercial airport in the U.S.
Expansion and enhancements at Terminal Two, completed in August 2013, include: 10 additional gates on the west side of the terminal, a two-level roadway separating arriving and departing passengers, additional security lanes and an expanded concession area.
Getting around: Getting around the airport isn't complicated due to its size and the fact that it isn't a major connector hub. There's a commuter terminal for flights to and from Los Angeles, Terminal One serves Alaska Air and Southwest, while the rest of the carriers use Terminal Two.
Taxis and shuttles are available for transport to the city and convention center, with costs running $15+, depending on your destination. You'll find them both at the Transportation Plazas across from Terminals 1 and 2, and curbside at the Commuter Terminal.
Car rental shuttles regularly operate at the Terminal 1 center traffic aisle and at the traffic island at the far west end of Terminal 2.
Metro bus #992 The Flyer ($2.25) travels 10 minutes to the Santa Fe Depot in downtown San Diego, where you can connect to the Coaster commuter train, the Trolley, and Amtrak.
Dining: Newly opened restaurant, Bubbles Seafood and Wine Bar, offers a range of excellent wines, boutique beers, and of course Champagne, together with a delicious small-plate menu. The menu features such creative dishes as grilled vegetables served with cilantro pesto and anchovy chili dip.
The PGA Tour Grill is a restaurant catering to not only golf lovers, but those looking for a healthy lifestyle eatery. The varied menu includes dishes such as the signature spinach salad with goat cheese, toasted almonds and fresh strawberries as well as a selection of sandwiches and wraps. If you're looking for a heartier meal, choices include grilled citrus salmon and a smothered flatiron steak.
Both of these restaurants are located in the newly renovated Terminal Two West, after security.
Relaxation: Escape the often stressful airport environment with a visit to the welcoming new wine bar, Beaudevin. Amidst soft seating, muted tones and wood finishes, you'll enjoy wines from around the world and relax while waiting for your flight.
Interested in the Arts? Enjoy the temporary and rotating art exhibits of the airport's Art Program or check out the schedule of complimentary performances held at the airport.
Wi-Fi: Free Wi-Fi is available throughout the airport.
Official Airport website: http://www.san.org/