Marriott Improves Dallas/Fort Worth Airport Security Check Experience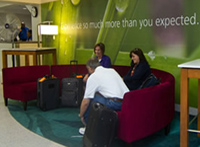 As all frequent travelers know, the experience of clearing security at the airport can be anything but relaxing. The Dallas/Ft. Worth airport - in partnership with SpringHill Suites by Marriott, SecurityPoint Media and the TSA - has embarked on a three-month pilot program in an effort to create a passenger-friendly ambience rather than a sterile, 'prison-like' atmosphere in the security area.
Lounge seating and screens displaying real-time waiting times have been installed at the entrance to DFW's Terminal E, E18 security search zone. The waiting area has been furnished with vibrant lighting, stylish décor and wall art while relaxing music plays in the background. Once you've cleared security you can collect your belongings in a comfortable "re-composure" area, featuring furnishings from SpringHill Suites.
"SpringHill Suites delivers stylish spaces that allow guests to relax and refresh, and the idea was to extend that same hospitality to the airport security area, where so many travelers' journeys begin" said Craig Fowler, Marriott International's Senior Director of Brand Marketing, Select Service Brands. "We hope travelers will enjoy the unexpected and pleasant surprises they'll experience in what can often be a stressful environment."
It's hoped that the project will be a huge success and more airports will implement innovative ways to improve the passenger experience in the security area.