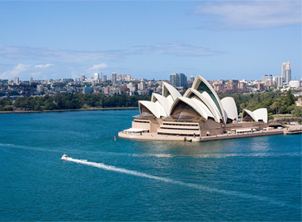 Sydney Kingsford-Smith International Airport is one of Australia's most important pieces of infrastructure. As the international gateway and an essential part of the transport network it connects Sydney to 46 international, 23 domestic interstate and 28 regional destinations.
The airport is conveniently located a mere five miles from the city center and six from major tourist attractions.
Getting around: The Sydney airport has three terminals: T1 - the international terminal and two domestic terminals, T2 - served by Qantas and T3 - used by Virgin Australia, Jetstar and others. The two domestic terminals are adjacent and walkable but it is a long way from there to the international terminal.
The airport is one of the few in the world that charges for transfers between terminals. The fastest way to transfer between the domestic terminals and the international is the Airport Link underground train, with a cost of $5.00 and a travel time of two minutes. The other options, such as the T-Bus shuttle service (cost $5.50) or a taxi (cost $17 - $20) can take upwards of 10 – 15 minutes, depending on traffic.
Both Qantas and Virgin Australia offer passengers transferring on their flights free terminal transfers.
The Airport Link train also offers convenient 15-minute service to downtown Sydney.
Dining: If you're looking for a good dining option in T1 prior to clearing Customs, try the Danks Street Depot, where chefs use sustainable, ethically produced local ingredients. Try one of their signature dishes such as the bacon hash with poached eggs or the Danks Street Reuben.
The Bambini Wine Room in T1 (airside) is a European-styled eatery with plush banquette seating and easy-listening music. Here, you'll find a range of bar snacks and a wide assortment of Australian and international wines.
Itacho Sushi in T1 (airside) offers a "truly-Japanese" dining experience. Watch your sushi and sashimi – made with the finest quality seafood from Australian waters – be prepared to order in front of you.
Relaxation: The Virgin Australia relationship with Delta pays off for Delta Gold Medallion (or higher) members. Your Delta status allows you access to the Virgin lounge, even on domestic economy Virgin itineraries.
Alternatively, spend time browsing the newly opened National Geographic store with its wide selection of products, which include award-winning magazines, books and DVDs or casual travel gear.
Wi-Fi: Free Wi-Fi is available throughout the International terminal and the T2 Domestic terminal. You can browse the internet for up to 2 hours 500 MB of data.
Official Airport website: http://www.sydneyairport.com.au/