What do You Know about TSA Pre✓™?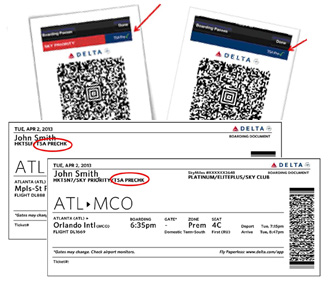 As every frequent traveler knows, airport security has become a nightmare. You stand in endless line-ups struggling to remove your shoes, belts, jewellery and anything else that might set off the alarm. You finally reach the conveyor belt where you have to unpack half your belongings and hope that you haven't inadvertently put something contraband (like a full-size tube of toothpaste) in your carry-on, which will result in a stern lecture (holding up the entire line) by a TSA agent when they spot it on the x-ray machine.
In an effort to make life easier – whether it be yours or that of the TSA - and to ensure that queues move more quickly the TSA Pre✓™ program has been established. What do you need to know about it and how it might affect you? Your UNIGLOBE Travel experts are here with the answers.
What is TSA Pre✓™ and what does it mean for you, the traveler?
TSA Pre✓™ is a program that allows low-risk travelers to experience faster, more efficient screening at participating U.S. airport checkpoints. Once approved for the program, you'll experience shorter lines and wait times and quicker transit through airport lanes. You'll also no longer have to remove your shoes, belt or jacket or unpack your laptop or liquids at security. The overall result is a more positive customer experience.
Am I eligible to join the program?
Originally very restrictive in who could join – by invitation only – there are now many methods of belonging.
The program is open to U.S. citizens who are currently members of a DHS Trusted Traveler program such as Global Entry, NEXUS or Sentri, as well as Canadian citizens who are members of NEXUS. Other individuals who already have a Known Traveler Number (KTN) are also eligible.
With the recent opening of a new application process, the TSA has opened up the TSA Pre✓™ program to U.S. citizens, allowing them to directly enroll. You can complete the pre-enrollment process online and then must visit an enrollment center for an in-person interview, background check and fingerprinting. You'll then pay an $85 fee (good for five years) to join. Once accepted you'll be granted a KTN and will be eligible to use the TSA Pre✓™ lanes. (Note: there are very few enrollment centers open yet, but they hope to eventually have 300 centers, nationwide.) Once you receive your KTN ensure that your UNIGLOBE agent has it stored in your profile so that it can be appended to your reservation whenever you travel.
Members of certain frequent-flyer programs are also eligible to apply. Alaska Airlines, American Airlines, Delta Air Lines, Southwest Airlines, United Airlines, US Airways and Virgin America are contacting eligible frequent flyers with an invitation to participate. Passengers who participate through a frequent-flyer program are only eligible on the airline in which they opted-in to participate. To participate on all TSA Pre✓™ participating airlines, travelers must have a Known Traveler Number.
Members of the Military who use their Department of Defense ID number when making a reservation are also eligible.
TSA Risk Assessments uses Secure Flight Data already supplied to TSA, which allows passengers to access the TSA Pre✓™ screening lane on a random basis. Check your boarding pass each time you fly for an indication of TSA Pre✓™ eligibility.
How do I know if I'm eligible on this flight?
If you're traveling with Alaska Airlines, American Airlines, Delta Air Lines, Hawaiian Airlines, JetBlue Airways (mobile boarding pass only), Southwest Airlines, United Airlines, US Airways and Virgin America you should look for "TSA Pre✓™," "TSA PRE" or "TSA PRECHK" on your boarding pass. At this time, not all airlines have the capability of notifying you on your boarding pass, so if you are eligible through a Trusted Traveler program or have opted in through your airline's frequent flyer program, you should proceed to the TSA Pre✓™ lane. Get into the habit of looking at your boarding pass for this notification as knowing your eligibility is an integral step in keeping the lines moving smoothly.
Is TSA Pre✓™ available at every airport?
TSA Pre✓™ is currently available at all major U.S. airports, and where available is well-signed, directing you to the correct lanes.
Being a member of TSA Pre✓™ is not a guarantee of expedited screening as the TSA will always incorporate random screening throughout airport.