U.S. Pre-Clearance?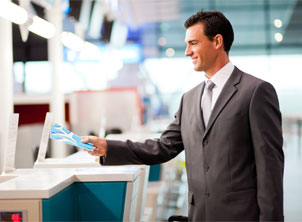 When returning to the U.S., clearing Customs and Immigration can be a time-consuming process, sometimes the difference between making a connecting flight or not. Passengers entering from some countries don't have that added stress as they have pre-cleared inspection prior to boarding their flight/train/ship. The subject has recently been in the news due to the opening of a new preclearance facility in Abu Dhabi and the controversy surrounding it. What do you know about preclearance? The UNIGLOBE experts are here to answer your questions.
How does PreClearance work?
The United States offers border preclearance facilities at several airports and ports in foreign countries. These facilities are staffed by U.S. Customs and Border Protection (CBP) officers, allowing passengers to pass through Customs, Immigration, Public Health and Agriculture inspections prior to boarding their flight.
Using preclearance allows you to enter the U.S. as a domestic passenger in a domestic terminal with no security to clear upon arrival. This allows you to more quickly connect to your ongoing flight without the uncertainty of wait times at some customs facilities. Once you've precleared, your baggage can be checked through to your final destination.
Which countries in the world offer U.S. PreClearance?
Preclearance in Canada began in 1952 and is now present at most major Canadian airports, including Vancouver and Toronto. It is also available at the Vancouver rail station for Amtrak rail service to Seattle and the port of Vancouver for cruise ships heading to Alaska and down the west coast of the U.S.
You'll also find it at airports in Bermuda, Aruba and both Freeport and Nassau in the Bahamas. Both Shannon and Dublin airports in Ireland offer preclearance and, as mentioned earlier, a new preclearance facility recently opened at the Abu Dhabi airport.
Why was there such controversy over the opening of the new PreClearance facility in Abu Dhabi?
As of January 2014, passengers traveling from the United Arab Emirates can now use the preclearance facility at the Abu Dhabi airport. This has created some controversy as there is only one airline – Etihad - with direct flights from there to the U.S. and it's felt that the new facility is giving them a competitive edge over U.S. carriers.
Because long customs lines are negatively affecting U.S. carriers and passengers arriving from Europe and Asia, Delta Airlines, last year, fronted its own money to buy automated passport control machines at JFK airport in New York as the CBP didn't have the budget. There are some who feel that opening this facility in the Middle East is a drain of tax-payer money that would be better used to improve customs facilities at major U.S. airports. However, as the Abu Dhabi airport is covering 85% of the costs associated with the new facility, this is actually saving the CBP money.