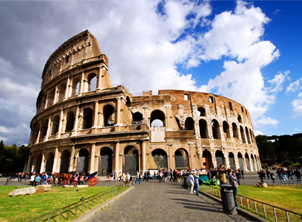 Fiumicino opened in 1960 to help reduce air traffic congestion caused by the Olympic Games. The airport is the hub for Italy's largest airline, Alitalia, and was built to replace the smaller Ciampino airport, which still services some low-cost airlines as well as domestic and charter carriers.
Getting around: There are four terminals at Fiumicino, 1, 2, 3 and 5. Terminal One serves Alitalia domestic flights; Terminal Two and Three serve other domestic European carriers and Terminal Five serves direct flights – operated by American and Israeli carriers - to and from the U.S. and Israel. Arriving international passengers must clear Italian passport control before connecting to onward flights so ensure you leave adequate time to make your connection.
A free shuttle runs every 15-minutes between the terminals and the car-park. Between the hours of 1 a.m. and 4 a.m. the shuttle runs on demand.
The Leonardo Express is a non-stop train service running between the airport and the downtown Termini station. Trains depart from Terminal Three every 30 minutes, with a journey time of 32 minutes. The cost of a one-way ticket is 14€. Taxi fare to downtown will run 30€ - 50€.
Dining: Ferrari wines - the leading Italian producer of Metodo Classico bubbles - are showcased at Ferrari Spazio Bollicine, a wine bar in Terminal One. The menu, edited by Michelin-starred chef, Alfio Ghezzi, offers the best in Italian tradition. Here you'll find an abundance of cured meats, cheeses, fish and pastas.
Obikà Mozzarella Bar (located in Terminal 3 - Area D) offers casual Italian dining, specializing in buffalo mozzarella and fresh, local produce. Inspired by a sushi bar, diners can watch their food as it is prepared while experiencing traditional foods and fast, efficient service.
Relaxation: Looking for ways to relax between flights? Visit the BE Relax express spa in Terminal 3, for a relaxing massage, manicure or aromatherapy. Car-enthusiasts can while away time among the merchandise of the Ferrari Shop.
Wi-Fi: Wi-Fi is managed by Boingo and is available throughout the airport. After the first 30 minutes of Wi-Fi which are free, you'll be required to purchase additional time. Your best bet is to have access to one of the airline's lounges where Wi-Fi is unlimited and free.
Official Airport website: https://www.adr.it
To read our previous airport reports, click here.