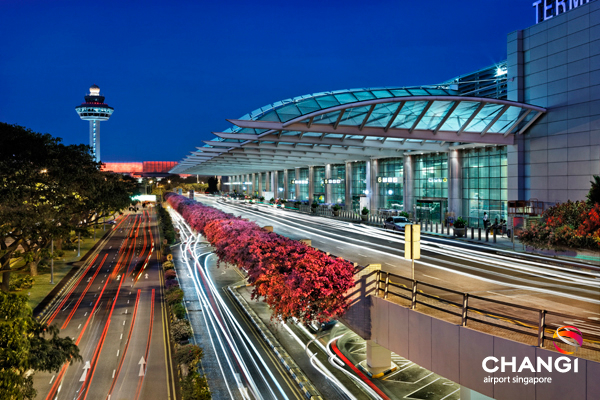 Changi is one of Asia's busiest airports, with over 100 airlines flying to over 250 cities in 60 countries. A flight takes off roughly every 90 seconds throughout the day.
With its 350 retail outlets and services and 120 food and beverage outlets, it has consistently won awards for "World's Best Airport." In fact it has become a shopping and dining destination for locals.
Getting around: The JetQuay CIP Terminal is an elite airport terminal at Changi, offering three levels of personalized service for a fee. Inclusions vary based on the level of service selected and may include a dedicated Customs and Immigration queue, a personal escort and a golf cart ride to or from your gate. Chose the top level of service and you'll receive a limo ride from the CIP terminal to your aircraft. This terminal also includes private meeting rooms, nap rooms, showers, lockers and complimentary food and beverages.
All three terminals at the airport are linked by the Skytrain, which is a speedy, free service operating in both the transit and public areas. During its non-operational hours (2:30am – 5:00am), passengers within transit areas can utilize inter-terminal travelators while those in the public areas have access to inter-terminal shuttle buses.
Dining: Soup Restaurant in Terminal Two (pre-security) is one of over a dozen outlets of a popular Singaporean chain. Reminiscent of the delicacies found at the Chinese Night Market, dishes here originate from family recipes, with the aim of serving distinctive, traditional food in a home-cooked style. Here, you'll find special dishes such as Samsui Ginger Chicken, Tofu Prawns and herbal soups.
Crystal Jade, a fine dining restaurant, is one of 100 outlets in a chain scattered throughout nine countries worldwide. Unlike many other chains, the food here focuses on healthy, nutritious dishes which are constructed with fresh, local ingredients. You'll find simple, traditional and flavorful Cantonese dishes, including such highlights as Hong Kong BBQ, dim sum, noodles and congee.
Relaxation: Making a connection in Singapore and have time on your hands? There are plenty of options available to make the wait more enjoyable. Visit the Changi Aviation Gallery in Terminal Three – a multi-sensory zone, with hands-on interactive displays - to find out how in-flight catering meals are prepared or how Changi prevents birds from roosting in the airport.
Less interested in aviation and more artistically inclined? Learn the ancient art of wood-block rubbing (Terminal Three) or visit the Asian Icon Interactive Art Station (Terminal Two). Filmophiles can catch a movie at one of the movie theaters found in either Terminal Two or Three.
Wi-Fi: Free Wi-Fi is available in all transit areas at Changi Airport. Launch your internet browser and enter your mobile number to receive a One-Time password via SMS or obtain a temporary Wi-Fi mobile number from one of the information booths throughout the airport.
Don't have your own computer? There are also more than 550 internet kiosks throughout the terminals. You can also access the free broadband wireless network in all public areas by receiving a temporary login and password at one of the Information desks.
Official Airport website: http://www.changiairport.com/
To read our previous airport reports, click here.