Delta Innovation Class - A Mentoring Program at 35,000 Feet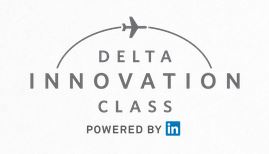 Delta has developed their Innovation Class based on the theory that powerful, intelligent people, who are leaders in their field, travel with them regularly. They've decided to give young entrepreneurs the opportunity to share a flight with some of these people and experience a mentoring session at 35,000 feet.
The beauty of this program is that most successful people are usually extremely busy and as much as they may wish they had time to share their knowledge and experience with others, they don't. And even if they had the time, how would they find the appropriate person to mentor? Innovation Class makes it easy.
Delta has selected leaders in business, art and technology - who will be traveling to select events around the globe - and is offering one lucky person per flight, the opportunity to meet them face-to-face in a one-on-one mentoring experience. As a mentee, all you have to do is apply and hope that you're selected!
Two Innovation Class flights have already occurred. The first was with entrepreneur, Eric Migicovsky, creator of the Pebble Smartwatch and the other was with Sean Brock, James Beard nominated chef. More are planned during the remainder of the year.
Sign up with Delta to be notified about upcoming Innovation Class flights or take this opportunity to suggest a mentor for a future flight.