Airlines & Airports Strive to Improve Traveler Experience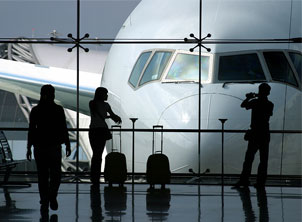 With the constant changes in air travel conditions - smaller seats with less leg-room, long queues at security and fewer amenities onboard the aircraft - the airline industry is looking to other business models for ideas on how to improve your overall travel experience. What are some ideas they have "borrowed," which may affect future travel plans? The UNIGLOBE experts are here with a few examples.
Reducing Bottlenecks at the Airport
In a move that mimics the Disney FASTPASS system, Montreal's Trudeau airport has developed a new online service, called SecurXpress. This service allows passengers to be assigned a time slot in which to pass through security, rather than queuing up at a random time.
Similar to the 'express' line at a supermarket, Pittsburgh airport offers an express security checkpoint line, open to passengers who are carrying only one bag (including purses, laptop bags or briefcases). Jackets don't count as an extra item, but carrying anything else will necessitate you using the normal security line. This is an incentive to pack less.
Boarding the aircraft can be a long, tedious process. In an effort to streamline the procedure – both reducing your stress and decreasing aircraft turnaround times – KLM has begun using a 'Smart Boarding' system, an idea similar to that used at post offices and delis. Upon check-in you'll be assigned a boarding number, dependent on the location of your seat. You'll then board the aircraft by boarding number with window seats at the back of the plane boarding before aisle seats at the front. This has proven to cut boarding times by doing away with the customary bottleneck in the aisle of the plane. While many U.S. carriers have implemented a similar system with their numbered boarding corrals at the gate, the KLM approach feels a little bit less like cattle in a corral.
Improving the Onboard Customer Experience
Some airlines – Virgin and Etihad, for example – realize that their customers are actually their 'guests', an idea originating in the hospitality industry. Cathay Pacific, Singapore Airlines and ANA, all known for their high standards of customer service, offer additional personal touches, similar to those found at hotels. Board a Cathay Pacific or ANA flight, for instance, and you'll be welcomed onboard with a small handwritten note, or travel in Singapore Airlines' first-class suite and you'll find a small card that says "This suite has been specially cleaned and dressed by …" in your private cabin.
In 2010, when developing its new first-class, British Airways collaborated with a design agency who had worked in the automotive industry, with Aston Martin and Jaguar for years. The end result was a first-class inspired by British luxury car brands, featuring dark blue leather seats with a cream leather trim around the headboard, while "a silver-coloured knob, that looks as if it should be on the dashboard of a Bentley gives the passenger precision control over the seat position."
Airlines are also learning from the retail industry. Virgin America, which lets you order food and drink through their RED inflight entertainment system, now allows you to open a tab and keep it running throughout the flight. This means that you only swipe your credit card once during your flight.
While you may not encounter any of these improvements on your next flight, indications are that the airlines are looking for ways to improve your flight experience and with luck, will continue to do so.