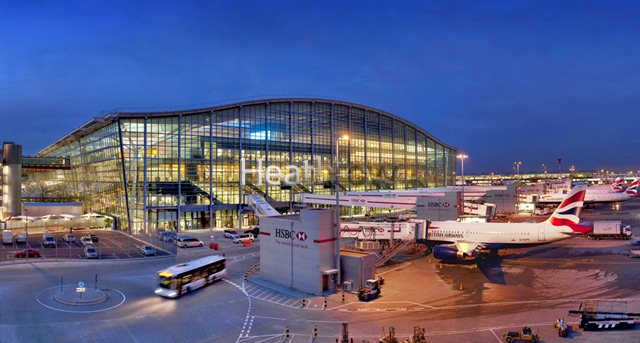 London's Heathrow airport is the world's global hub, with service on 80 airlines to over 80 countries. The airport always seems to be under construction, with seemingly endless rounds of airlines relocating from one terminal to another. As of mid-year 2015, we're in a period of relative calm with most airlines staying put. But construction continues as planners try to accommodate more passengers in an airport with only 2 runways and little room to grow.
Getting Around: Heathrow airport currently operates with 4 passenger terminals. Terminal 2 handles primarily the Star Alliance airlines, including United. Terminal 3 has most of the Oneworld airlines, including American, but only a small portion of the British Airways flights. It is also home Virgin Atlantic and some of Delta's flights. Terminal 4 handles most of SkyTeam including the rest of Delta. Terminal 5 houses most of British Airways, along with Iberia.
Sounds confusing? It is. Even worse, while you might assume that it was all organized according to airline partnerships or common connections, there are massive gaps in logic. For example, both American and partner British Airways operate flights to JFK, but from different terminals, reducing opportunity for switch to an earlier flight, or be re-accommodated in case of flight cancellations.
Terminals 2 and 3 are located adjacent to one another, with a walkable tunnel. Terminals 4 and 5 are each located separately on different parts of airport grounds. Transferring between them can be accomplished through a free bus or train – but can take from 15-20 minutes. Bottom line – if you are transiting Heathrow, leave yourself plenty of time between flights.
Visit the airport's Travel Between Terminals guide for more detailed information.
Relaxing: : In Terminal 3, private lounge operator "No.1 Traveller" offers bedrooms for rent on a short-term basis. In Terminal 4 you will find the Yotel micro-hotel with 32 next-generation cabins with ensuite bathrooms, free internet access and "techno wall" entertainment systems.
Dining: In Terminal 2 (airside) we recommend dining at The Gorgeous Kitchen – a collaboration between four renowned British, female chefs. You'll find a global cuisine with a focus on British-grown produce. They offer an a la carte menu, an express menu - which will allow you to eat a meal in 15 minutes - and a British afternoon tea.
If a pub/restaurant is more your style, visit The Flying Chariot (Terminal 2, landside) is worth a visit. The two level venue includes their own control tower with amazing runway views. Try one of their craft beers, artisan gins or organic ciders with a meal from their award-winning menu.
Wifi: Service is available for free using network name _Heathrow Wi-Fi. A brief registration is required. Faster speeds are available for a fee.
Official website: www.heathrow.com
To read our previous airport reports, click here.