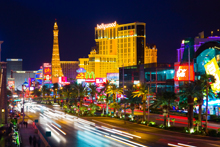 Located five miles from downtown Vegas and a mere two miles from "The Strip", McCarran airport is a focus airport for both Allegiant and Southwest airlines, serving as the largest operation base for each of these airlines. The airport sees more than 40,000,000 passengers pass through it every year.
In mid-August McCarran will become the tenth airport in the U.S. to allow passengers to identify themselves using biometric scanning (thumbprints and iris scans) rather than with a driver's license or passport. For an annual cost of $179, participants will be allowed to use the high-tech kiosks. Passengers do not have to be enrolled in TSA's PreCheck or the Global Entry program to register and registration details can be found here.
Getting Around: McCarran airport consists of two separate terminal buildings - which are not physically connected - so it's important to know which terminal your flight leaves from. Each terminal has its own parking garage, ticketing/check-in areas, baggage and dining/shopping options.
You'll find gates A, B & C in Terminal 1, with D gates in a satellite concourse accessible from T1 via an automated transit system. Fourteen-gate Terminal 3 is home to all the foreign flag carriers as well as a few domestic carriers. A courtesy shuttle bus runs between terminals 1 and 3 every 12 – 15 minutes.
It's possible to arrange a limo pickup through many of the Vegas hotels/resorts and there are also numerous taxi companies servicing the airport. Things to be aware of: not all cabs accept credit cards, cab fares originating at the airport are subject to an automatic $2.00 service charge and taxi lines can be horrendously long, particularly on a Thursday or Friday night.
Relaxing: While the seemingly obvious choice for passing the time at the airport is playing the slots, there is another option available.
Aviation came to Las Vegas in 1920 and the Aviation Museum – located in Terminal One, Level Two, above the baggage claim – gives you a glimpse into the rich aviation history of southern Nevada. You'll also find a 1956, red Ford Thunderbird among the exhibits.
Dining: Looking for some great southwestern fare? We recommend Moe's Southwest Grill, located at the A gates in Terminal 1. Their mission is to serve the highest-quality ingredients in meals made fresh, daily. This is a great place for vegetarians and those who are looking for gluten-free options.
Located at E gates in Terminal 3, The Village Pub offers typical pub grub, including beer-battered fish & chips, burgers, sandwiches and chicken pot pie.
If you're in a hurry and a trip to Vegas just isn't complete without a meal at a Wolfgang Puck restaurant, visit Wolfgang Puck Express for a quick meal-to-go. Featuring affordable prices and Wolfgang's most popular dishes – such as hand-crafted gourmet pizza and Chinois Chicken Salad – you'll find this establishment at C gates in Terminal 1.
Wi-Fi: Complimentary Wi-Fi is available in all public areas of McCarran airport.
Official website: https://www.mccarran.com/
To read our previous airport reports, click here.