All-Business-Class Trans-Atlantic Flights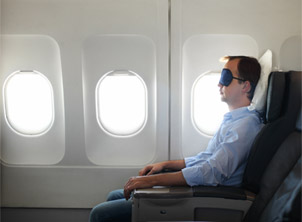 There's a new airline in town, with a business model which has been tried several times before, without success. Because of airline consolidations and alliances, trans-Atlantic business class capacity has fallen, prices have risen and La Compagnie believes there is room for their all-business-class airline, offering flights between Paris and New York.
La Compagnie is the operating name of Paris-based Dreamjet and is the second attempt of co-founder Frantz Yvelin to operate an all-business-class carrier. He originally founded L'Avion, an airline that flew between Paris Orly airport and Newark. After operating for only two years, L'Avion was purchased by British Airways and merged into their Open Skies subsidiary.
La Compagnie is flying a Boeing 757 between Paris Charles de Gaulle airport and Newark. Its 74 seats fully recline and fares are 30 – 50% lower than fares on other scheduled carriers. Each seat will be equipped with a Samsung Galaxy tablet, offering new movies, music and eventually, newspapers and magazines. A four-course meal will be served on the flight which departs Paris at 5:50pm and a late-night snack on the Newark departing flight which leaves at 9:45pm.
Odyssey Airlines, a London-based startup is also in the early planning stages of an all-business-class route, with flights between London, England and New York. The track record for this route is not promising as, since 2001, at least three airlines have attempted it, with varying degrees of success. MAXjet flew for four years before filing for bankruptcy protection in 2007, Eos ceased business in 2008 after two and half years in business and SilverJet closed in June 2008 after flying for only 18 months.
La Compagnie faces competition from Air France and Open Skies, as well as American Airlines, Delta and United. Will they succeed where others have failed?