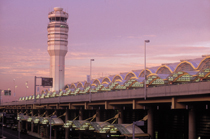 Ronald Reagan Washington National Airport is located in Arlington, Virginia, across the Potomac River and a mere 3.5 miles from Washington, D.C. Its proximity to the city offers unparalleled views of key monuments such as the Capitol and the Washington Monument.
The airport is currently in the midst of renovations to its Terminal A, adding shops and restaurants, as well as publicly-accessible iPads and charging stations.
Getting Around: Reagan National is a relatively small airport, with only three terminals, A, B & C. As there are no U.S. Immigration and Customs facilities here, the only international flights landing here are those from airports with U.S. Customs and Border Protection preclearance facilities, such as Toronto, Ottawa and Montreal. All other international flights use Dulles airport. The airport is easily walkable.
Transportation between the airport and the city center is easy and relatively inexpensive. Hop the Metro or take a cab and you'll be at your destination in minutes. You'll find the elevated Metro station connected to the concourse level of terminals B and C.
Relaxing: The Airport Authority provides a performing art program which includes live music, dancers and other live performances for your entertainment while waiting at the airport. If you're an art lover, explore the rotating art exhibits in the Gallery Walk, located in Terminal A.
Dining: While sushi may not be the first thing that comes to mind when dining at an airport, the sushi at Matsutake Sushi is too good to miss. There are no pre-made rolls here; everything is fresh, fresh, fresh. Located pre-security in National Hall, near the Terminal B/C security checkpoint.
USA Today voted Legal Sea Foods '#1 Best Seafood Restaurant' in 2013. This popular chain eatery is famous for its New England Clam Chowder – which has been served at five Presidential inaugurations – and can be found pre-security in National Hall, before the Terminal B/C security checkpoint.
Wi-Fi: Complimentary Wi-Fi is available throughout the Main terminal and concourse areas.
Official website: http://www.metwashairports.com/
To read our previous airport reports, click here.