Has the Airline Lost your Luggage?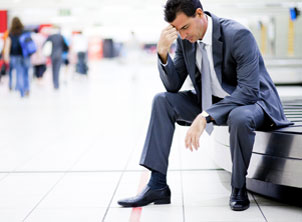 You're waiting at the luggage carousel watching the number of bags dwindle as they ride round and around. There don't appear to be any more bags making their way down the chute and you slowly realize that your bag is not going to make an appearance. What now? The UNIGLOBE experts answer some of your questions.
What should you do?
Immediately find the airline's baggage office or window (usually located near the carousel). If you've connected on multiple airlines, the last airline to carry you has the responsibility of reuniting you with your bags (even if they or you know that another airline actually lost them) so that is the desk you'll need to find.
The agent will ask for your luggage claim stubs and will initially attempt to trace your bag on the computer. They may determine that it is coming on a later flight (in which case they should deliver it to you), or, if it should have been on your flight, they may send a baggage handler off to look for it. Be prepared to describe it (having a picture on hand is useful).
Once it's determined that it is indeed lost you will be asked to fill in a claim form with relevant personal information, including a contact phone number and address. Before you leave the airport be sure you know how to check on your bag's status (most airlines have an online system or a phone number to call).
What is the airline's liability?
Most bags do turn up at the destination. If the airline deems that your bag is indeed lost they will compensate you for that loss. The airline's liability on U.S. domestic flights is restricted to the value of the luggage or $3,300 (increasing to $3,400 on June 6, 2013), whichever is less. You may be asked for receipts to prove the value of items in your luggage. There is also a long list of items that are not covered, such as antiques, jewellery, eye glasses and many other things. Liability on international flights is (strangely) lower than on domestic flights.
In addition, the airline must refund your bag fee if it is lost, but are not required to if the bag is only delayed. Alaska Airlines is the first U.S. airline with a baggage service guarantee. They guarantee your bag will be in the baggage claim area within 20 minutes of parking at the gate or they'll give you bonus mileage points or a credit toward a future flight as compensation.
If your luggage is merely delayed ensure that you keep all receipts for items purchased to see you through until you receive the missing bag. Airlines will require a written claim, usually within 30 days of the incident.
How can you prevent losing your luggage?
Put your name on the inside and outside of each bag. You could also ensure a copy of your itinerary is inside your bag, making it easier for the airline to find you.
Avoid late check-ins and tight connections.
Make sure the agent checking you in has attached the correct destination tag to your bags.
Carry an itemized packing list with you, making it easier to make a claim with the airline if luggage is lost (see this month's app).
The best way to avoid lost luggage is to bring carry-on luggage only.