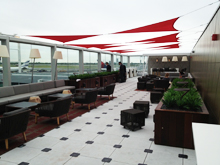 JFK airport is the leading international gateway to the U.S., with over 90 airlines operating from its 125+ gates.
On May 24, 2013 Delta opened its brand-new $1.4 billion terminal, replacing the decrepit 1960's Pan Am terminal building. 75% of the seats in the new terminal have access to electric outlets. One of the highlights of the new space is the 2,000 square foot rooftop deck which offers sweeping views of the runways and airplanes. The deck is open only to Delta Sky Club members or passengers flying international business class.
Getting around:
The JFK AirTrain transports you easily between the six terminals at no charge. This service runs 24 hours a day, 365 days a year. It also connects with MTA New York City Transit subways and buses as well as the Long Island Rail Road.
If changing terminals, allow time to ride the AirTrain and, as the terminals are large, allow at least 15 minutes to walk to your gate.
Dining:
Delta's brand new Terminal 4 & JetBlue's recently built Terminal 5 offer the best dining options. Deep Blue, found in Terminal 5, is touted as possibly the best sushi you'll ever eat at an airport. To experience the old-world charm of a Parisian cafe, and the flavours and textures of simple French cooking, visit Brasserie La Vie.
An off-shoot of the iconic New York restaurant, Blue Smoke can be found in Terminal 4. A pioneer in New York's vibrant barbeque scene, it offers specialty cocktails, mouth-watering barbeque and home-made desserts.
Relaxation:
If you're a Delta Sky Club member or flying international business class enjoy the brand-new rooftop deck with its views of the runways. Many of the other airlines also offer passengers the use of their lounges.
Wi-Fi: Wi-Fi is available in most public areas of most of the terminals. Boingo Wireless offers an hourly rate of $4.95, along with daily and monthly passes. Terminal 5 has free wireless internet at all of its gates..
Official Airport website: http://www.panynj.gov/airports/jfk.html