Fit in a Workout at the Airport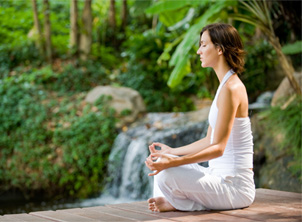 You're constantly on the move, traveling from business meeting to business meeting. How do you find time to fit in a workout when you have such a hectic travel schedule?
It appears that airports are becoming aware of this issue and are looking for ways to make the airport experience less stressful and more enjoyable. Exercise facilities seem to be popping up at airports around the country with increasing frequency. Want to know what your options are? Your UNIGLOBE Experts are here to help.
I heard that Philadelphia airport has stationary bikes available for travelers' use. Is this true?
As part of a summer-long customer appreciation program, the airport decided to install three types of stationary bikes, into an exercise zone that pops up in a different location in the airport every couple of weeks. The complimentary use of this equipment was such a hit with passengers that there are now 30 bikes throughout the terminals and officials are now trying to find a way to make the temporary program permanent.
I like to relax by doing yoga. Do any airports have a yoga studio?
The airport yoga room trend began in 2012, when the San Francisco International airport opened the world's first airport yoga room in Terminal Two. This space has been such a success that the airport recently opened a second yoga room in its newly revamped Terminal Three.
In the midst of one of the busiest airports in the country, Chicago O'Hare, you'll find a yoga room with a bamboo floor, exercise mats, floor-to-ceiling mirrors and natural light. Located in Terminal Three, beside the indoor urban garden, it's a peaceful haven from the stressful atmosphere of the rest of the airport.
You'll also find a yoga room at Burlington International Airport (VT), located on the second floor, on the west side of the airport and at the Dallas-Ft. Worth airport, in Terminal D, right outside Gate D40. This is a part of the DFW airport's effort to become the healthiest airport in the country.
Further abroad, if you happen to be traveling through London Heathrow's Terminal Four in the next couple of months you might take part in a pre-flight yoga class, currently being tested in a two-month pilot program.
I like to walk off my stress. Do any airports offer a walking track inside the terminal?
Yes, there are actually a number of airports who have instituted walking paths within their terminals. Here are a just a few:
Dallas/Ft. Worth has its LiveWell Walking Path, measuring seven-tenths of a mile, located in Terminal D. The path also includes two optional step-courses, in the form of its 55-foot high staircases.
The Indianapolis International Airport has developed five walking paths. Two of these paths are located pre-security for those who are waiting to pick up passengers and three are post-security for passengers who are waiting for flights.
Hartsfield-Jackson Atlanta – walking path is .79 miles
Cleveland-Hopkins – has a two-mile Health walk
Seattle-Tacoma International airport has measured off mileage within the airport. Walk the full length of Concourses A, B, C and D and you'll have walked two miles.
Minneapolis-St. Paul International has a 1.4 mile walking path
With all this exercising, what if I'd like a shower before my flight?
Of course a shower after exercising is optimal but you may have trouble finding a shower in some airports and may end up paying for the privilege in others. Airline club lounges in most major hubs have shower facilities available to members. If you take advantage of the exercise facilities we've mentioned and are looking for a shower in one these airports, here are your options.
Delta Sky Club - Seattle-Tacoma and Atlanta
United Club – Chicago O'Hare and San Francisco
American Admirals Club – Chicago O'Hare, Dallas Ft. Worth and San Francisco
Not a member of an airline club? Here are shower facilities which can be rented by anyone with a boarding pass.
Dallas-Ft. Worth, Atlanta and Philadelphia – rent one of the 'Minute Suites' at each of these airports for a minimum of one hour, for a cost of $34 and a shower is included. A shower can also be purchased here as a separate service.
Dallas & Atlanta – purchase a day-pass at the 'The Club' airport lounges, which offer shower facilities. Cost approximately $35.
San Francisco – you have the option of renting a private shower room from 'Freshen Up!' in the International Terminal near boarding area G.
If this trend continues there will be no more excuses for not fitting in your workout while traveling…it would just be nice to see a few more shower options.