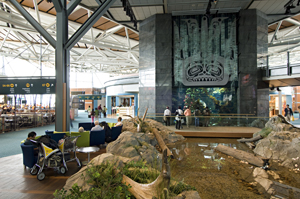 In 1930, when Charles Lindbergh stated that Vancouver "had no fit field to land on," the city immediately began construction – on Sea Island, Richmond - of a single, 730-metre runway with a small wood-frame building and control tower.
Today, the airport has been named the #1 airport in North America for five years running. It's served by 60+ airlines and sees more than 17,000,000 passengers annually. Its location on the Pacific coast makes it not only a destination in itself but also a logical connecting point between North America and other Pacific Rim nations.
Getting Around: The main terminal at YVR consists of three, three-level terminals – Domestic, International and U.S. - all under one roof. It's possible to walk from one end of the terminal to the other in approximately 10 minutes.
The Canada Line, Vancouver's newest rapid transit link (built for the 2010 Olympics) allows travelers to connect to downtown Vancouver in 26 minutes or downtown Richmond in 18 minutes. The train is easily accessed from both the International and Domestic terminals.
If you have an early morning departure out of YVR, spend the night at the Fairmont Vancouver Airport Hotel, a luxury hotel and spa attached to the airport. This four-diamond, soundproofed hotel is a mere two-minute stroll from the luggage carousels.
Relaxing: Relaxing at YVR is easy when you purchase entry to one of three Plaza Premium Lounges. These are available to anyone, no matter the airline or class of service. Here you'll find comfortable furnishings, showers and nap rooms. You'll also enjoy a selection of food and beverage items, along with computer work-stations and Wi-Fi. A lounge is located in each of the three terminals.
Take time to enjoy the award-winning art displays throughout the airport. The art is a reflection of the culture and history of the province, and includes important pieces by famous First-Nations artist, Bill Reid. You can also take-in the 75-piece Lorne Balshine Collection – a collection of contemporary Inuit sculptures.
Dining: Your best bet for fine dining at the airport is Globe@YVR, located in the Fairmont Hotel, close to U.S. check-in. This award-winning eatery specializes in Pacific Northwest cuisine and prides itself on following the Vancouver Aquarium's Ocean Wise conservation program. You'll find only sustainable seafood served here. Because the dining room is located before security, it's a great place to hold a lunch or dinner meeting.
Visit Milestones for its varied menu, fresh ingredients and upscale but casual vibe. One of a chain of restaurants which is popular throughout BC, Alberta and Ontario, this location is found after security in the International Terminal.
There are two Vino Volo Wine Bar outlets in the airport, both great places to while away the time. The menu reflects the local cuisine and the wine list includes both B.C. and international wines. Found after security in the U.S. Terminal or on the arrivals level, before security in the International Terminal.
Wi-Fi: Complimentary Wi-Fi is available throughout the airport.
Official website: http://yvr.ca/en/default.aspx
To read our previous airport reports, click here.