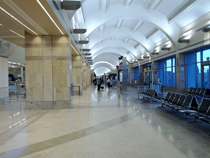 In 1923 – only 20 years after the Wright Brothers' flight - a runway was carved out of a bean field in Santa Ana, CA. This was the origin of the Orange County airport. The runway has since been relocated and an additional runway added, to create today's modern airport. With 20 commercial and six commuter gates, it is serviced by most major U.S. carriers and sees nine million passengers annually.
Getting Around: Located in the center of Orange County, John Wayne Airport is 35 miles south of Los Angeles and is a terrific alternate airport if you're traveling to destinations south of Long Beach, CA. With only three terminals, A – C, under one roof, the airport is small and easy to maneuver. All gates can be easily accessed from any terminal and security checkpoint.
You'll find plenty of ground transportation options, including rental cars, hotel shuttles and a shuttle to the nearest train station, 10 miles away.
Relaxing: There are both an American and United lounge available at the Orange County airport. If you're traveling through the airport before November 28, 2014 and are interested in architecture, spend some time perusing The American Institute of Architects Orange County Design Competition entries. You'll find the displays on the Departures level in Terminals A and C.
Dining: California is renowned for its tasty, authentic, Mexican cuisine. Experience it yourself at Javi's, an eatery belonging to Javier's, a popular chain of Mexican restaurants. Here you'll find authentic dishes from various regions of Mexico. Indulge in a specialty margarita and try one of the seafood plates or an earthy mole. This restaurant is located in Terminal B/C near gates 13 and 14.
If you're a hockey fan you might want to check out the Anaheim Ducks Breakaway Bar and Grill. Located in Terminal C, this upscale but comfortable restaurant offers a menu of bar favorites with a gourmet twist. Try the Stacked Ribeye Sandwich, with Tillamook cheddar, crispy onion strings, Applewood smoked bacon, BBQ sauce and mayo on a toasted brioche roll. Restaurant décor includes plenty of hockey memorabilia, large TV screens and offers an optimal runway-facing view.
Wi-Fi: Complimentary Wi-Fi is available throughout the terminal concourses. Under available wireless networks, choose "JWAFREEWIFI."
Official website: http://www.ocair.com/
To read our previous airport reports, click here.