Marriott Offers Wireless Charging in Hotel Greatroom Lobbies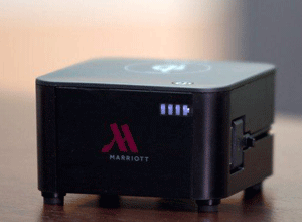 The result of a recent survey conducted by Marriott Hotels should come as no great surprise to those who travel frequently and have chafed at the shortage of electrical outlets on aircraft, in airports and hotels. The survey indicated that U.S. business travelers carry two to three electronic devices with them when they travel, and the number is expected to continue rising.
Finding power while on the road has become a common worry for travelers as battery technology has not kept up with the demands of larger screens and more app-driven devices, meaning that keeping your device charged has become a time-consuming priority during your travels.
In response to the survey and in an effort to improve the customer experience, Marriott, in partnership with Kube Systems, began in October, to roll out portable charging stations in the Greatroom lobbies of 29 of its hotels. The charging stations use Qi technology, the global standard in wireless charging.
Described as sleek and contemporary, the chargers are capable of charging up to six devices at one time and cover all Apple, Android and Windows mobile devices. The technology used allows all compatible smartphones to charge by simply resting on the KS portable Qi transmitter, removing the need for cables and power cords.
The Marriott Greatroom lobbies have been developed as a social hub and as a space for tech-savvy guests to work, relax or socialize. Although currently limited to a mere 29 hotels, if this trial proves a success, you may soon find that Marriott expands this service to more of its hotels. The wireless chargers can currently be found in many hotels in the larger centers, including New York, Boston and San Francisco.