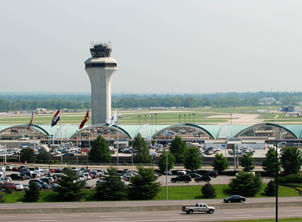 From its inception in 1920 to current day, Lambert – St. Louis International Airport boasts a rich aeronautical history. The 1923 International Air Races, hosted by Lambert Field were the impetus that drew Charles Lindbergh to the city, where he lived for a number of years. Here, he became the chief pilot for the postal service's inaugural airmail service, between St. Louis and Chicago, a route that is the earliest ancestor of American Airlines. Later, his flight aboard the Spirit of St. Louis from San Diego to St. Louis and on to New York - setting a transcontinental speed record – and his non-stop flight from New York to Paris sparked world-wide interest in air travel and flying.
Getting Around: Located 11 miles northwest of downtown St. Louis, the airport consists 88 gates divided between two terminals. Terminal 1 – the Domestic Terminal – is home to Concourses A and C, and Terminal 2 – the International Terminal – consists of Concourse E.
The airport offers a free continuous shuttle service between terminals for all other passengers. If you choose to walk between terminals, allot at least 15 minutes for the walk.
Light Rail transportation into the city is available through the Metrolink stations attached to each terminal.
Relaxing: If you have time between connections, take a few minutes to check out Lindburgh's 1934 Model D-127 Monocoupe plane, which greets passengers as they enter the airport; enjoy the art scattered throughout the terminals; or indulge in a foot massage at the Xpres Spa, located near gate E18.
Dining: Two well-known St. Louis brands – Pasta House and Schlafly - have combined in one venue in Terminal Two (opposite Gate E4) at the airport. Here you'll find all the traditional Pasta House menu items, along with a full selection of Schlafly beers. Each of them also operates an individual eatery in Terminal One.
Those looking for comfort food should dine at Mike Shannon's Grill, located on the A concourse of Terminal One. This is the third in a family-owned chain, named for St. Louis Cardinal player Mike Shannon. Renowned for its steaks, salads and burgers you'll dine amid leather upholstery, wood finishes and a custom display of baseball memorabilia. In order to meet the needs of travelers, a breakfast menu was recently added.
Official website: http://www.flystl.com/
To read our previous airport reports, click here.