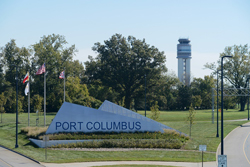 Port Columbus International Airport opened in 1929, on a site selected by Charles Lindbergh. Located six miles outside the city of Columbus, Ohio, the airport offers service to all major hubs within the U.S., with the exceptions of Seattle, San Francisco and Salt Lake City.
The 55-year-old terminal is currently undergoing an $80 million modernization, with work to be completed in 2016. While work on Concourses A and C has been completed, it is ongoing in Concourse B and the main ticket lobby.
Getting Around: Port Columbus is a relatively small airport, with one terminal building, comprised of the main lobby/ticketing area, baggage area and three concourses, A, B & C. As such it is an easy walk between gates.
Taxi fare into downtown Columbus runs approximately $25.
Relaxing: Spend time enjoying the many art displays and exhibits throughout the airport, including Speed Machines, a wall-mounted exhibit depicting the speed of flight.
Dining: If you're on your way to or from the airport, you might consider dining at the 94th Aero Squadron Restaurant. Located on the airport property (but not inside the terminal) since 1981, this World War I-themed restaurant offers a great view of the runways, a lovely patio in the summer and a widely varied menu, specializing in prime rib, steaks and seafood.
For a local flavor, visit the Buckeye Hall of Fame Café. This Concourse C eatery features autographed Ohio State memorabilia and multiple flat-screen televisions where you can pass the time watching your favorite team. In addition to typical café fare - such as sandwiches, ribs and steak – you'll also find healthier items such as chicken lettuce wraps and fresh veggies.
Wi-Fi: Complimentary wi-fi is available throughout the airport. There are also 2000+ power outlets and USB ports, allowing you to recharge multiple electronic devices.
Official website: http://flycolumbus.com/
To read our previous airport reports, click here.