Traveling Safe for Solo Female Business Travelers?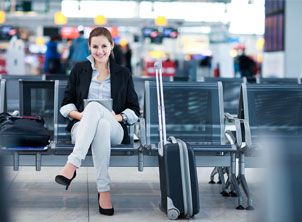 While it does seem that there has been plenty of negative publicity about solo female travelers recently, it's important to keep things in perspective. Most of what is written is about women who are traveling off-the-beaten-path in less than desirable circumstances. And bad things can happen anywhere. That doesn't mean you shouldn't travel outside your own town.
Of course a woman on her own can be a target, but there are things you can do to ensure your safety. The Uniglobe experts are here to offer some advice.
Are there countries that are less safe for female travelers?
Any country with a misogynistic culture can be a challenge for a female traveler. This includes Latin American countries such as Brazil, Colombia, Guatemala and Mexico. Here, perpetrators of crimes against women are rarely brought to justice. War-torn countries or those with a tumultuous history are also places that could cause you a problem. Turkey, India and Egypt spring to mind.
What can I do to stay safe, when traveling to these locations?
Being informed is the most important aspect of safe travel. Research local customs and appropriate attire. Dress to blend in (conservatively) and not look like a tourist. Read up on cultural taboos, common scams and neighborhoods to avoid.
Don't let on that you're traveling on your own. Act and move with confidence and look like you know where you're going at all times. This is easier if you've done some planning prior to leaving home.
Common sense plays a part too. Don't travel with expensive luggage and flashy jewellery and keep your electronics out of sight. Carry your valuables on your person and split up your credit cards and cash so that they're not all in one place.
Always be aware of your surroundings and everything that is going on around you.
Hotel Safety
Once dismissed as a sexist idea, many hotels around the world - particularly business hotels - are designating floors specifically for female guests. Not only will women feel more comfortable and secure, but in many cases the rooms offer perks that are more valuable to women than men, such as full-length mirrors, makeup stools and toiletries.
If you're staying at a hotel without specific women-only floors, other important safety factors to consider when booking are:
book a room on a higher floor, near the elevator and away from emergency exits and stairs. This will minimize easy access to your room by an intruder.
24-hour manned reception
secure internal lock on your door
well-lit entrance and hallways
female service staff
Once I arrive at my hotel what can I do to stay safe?
Use valet parking if you have a vehicle and never be afraid to ask security for an escort to your room. Remember that your concierge is a useful source of information on areas that might be unsafe to visit.
In other words, be confident, but not brash. Be aware and go with your gut. If a situation feels off, trust your gut...it probably is.