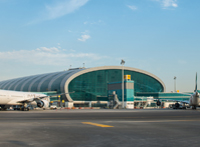 Dubai is considered the Gateway to Global Business Opportunities. The government has invested the oil wealth into building necessary infrastructure, allowing it to become the storage and distribution hub of the Middle East. There is a 10-year plan in place to spend $7.8 billion in airport improvements, with the expectation that by 2018 passenger capacity will reach 90 million per year. This will put Dubai International at the top of the list of world's busiest airports, surpassing London Heathrow.
The recent completion of Concourse A, with its 20 gates capable of handling the A380 have gone a long way toward meeting this goal.
Getting around: Dubai International is a massive airport with three terminals: Terminal 3 which is exclusive to Emirates Air, Terminal 2, used mainly by carriers arriving from Iran, CIS countries and those offering charter flights, and Terminal 1, serving the major airlines of the world.
T1 and T3 are directly connected with a common transit area, making it possible for airside passengers to move between terminals without going through immigration. Leave yourself plenty of time to walk between the two terminals as the walk can take 20 - 30 minutes between gates. There are travelators (moving sidewalks) and escalators to assist you.
Dining:
There is an eclectic selection of dining options in the 25 restaurants at the airport. The
Cadiz Tapas Bar
, near gate B26, offers a wide range of delicious, authentic Spanish tapas.
Located in Terminal 1 is Safar, the main airport restaurant. This restaurant is divided in three - the bar - Pint 19, an international buffet restaurant and an a la carte restaurant, where you'll find a varied menu.
Relaxation: Time to kill in the Dubai airport? Shop the glitzy, high-end shops (the airport has been likened to a shopping mall) or escape to a peaceful lounge and let your travel-stressed self relax.
Dubai airport offers an unprecedented selection of lounge options from the luxurious 'Al Majlis' service (in a separate VIP facility including a dedicated Duty Free outlet, private car service to the gate and a $400 per use price tag) to the standard airline-run lounges.
Alternately, the airport offers all passengers use of two 'Quiet' lounges , where you'll find comfortable reclining chairs, perfect for a peaceful nap between flights.
Wi-Fi: There is free hotspot wireless internet service - 'MAXSPOT' provided for all passengers. This fast reliable service is available across Terminals 1, 2 & 3 as well as in all airside facilities.
Official Airport website: http://www.dubaiairport.com/en/Pages/home.aspx