Kimpton Hotels Offer Free Nightcaps
Guests may find themselves enjoying a complimentary nightcap next time they stay at a Kimpton hotel. In a recent announcement by Kimpton, it was stated that, in addition to their popular nightly wine hour, they will be rolling out a new nightcap program at their hotels. It is currently only available at 17 of their hotels but the remaining 48 hotels will be adopting the program within the next year.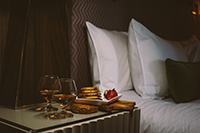 During the wine hour, guests are encouraged to mingle and unwind with a complimentary glass or two of select wines during the cocktail hour. The nightcap program expands on this by offering guests a chance to relax with a "wee dram," along with a small snack—such as a cookie, chocolate or nuts—before bed. Nightly offerings will differ from hotel to hotel and may include a tawny port and blue cheese, Scotch and a shortbread cookie or Cognac and crystallized ginger.
While most properties will offer nightcaps between 9 and 10:30 pm, hotels are free to use their discretion and make changes to serve their specific clientele. For example, the Sky Hotel in Aspen may, in an effort to accommodate the après-ski crowd, choose to serve drinks earlier.
Guests shouldn't expect entire bottles of spirits or liqueurs, rather mini-bottles in the lobby or an invitation to visit the front desk for a "special treat."