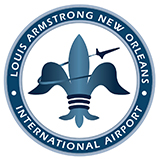 Despite its status as an international airport, Louis Armstrong Airport offers flights to mainly domestic destinations. Although once a major gateway to Latin America, such travel is now routed through the hubs of the legacy carriers leaving just a handful of international destinations.

Lying a mere 4.5 feet below sea level, it is the second-lowest-lying airport in the world. Only Amsterdam, at 11 feet below sea level, is lower.

Getting Around: Active gates are serviced on concourses B, C and D. Concourse B is home to Southwest Airlines while D is where you'll find Delta, United and Air Canada. The remaining 10 airlines are located in Concourse C.

The airport is located 11 miles outside the Central Business District with taxi fare running $33 for one or two passengers. While there is also an airport shuttle bus available for $20, travel time is roughly double that of a cab.

Relaxing: Members of Delta's Sky Club will find the lounge on concourse D.

Dining: You'll find a number of restaurants serving classic southern comfort food. Located in the west terminal, before security, Dooky Chase's Restaurant is a New Orleans institution. Try their award-winning fried chicken, a bowl of gumbo or the shrimp po'boy.
The Praline Connection, located in the food court on concourse B, is described as having legit soul food. Why not try the alligator sausage or chicken livers? And don't forget to pick up a box of pralines to take home with you.
For a change of pace, try Ye Olde College Inn Restaurant & Bar, located on concourse D. While you will find some typical New Orleans fare on the menu, there are also mainstream items such as Beef Tenderloin and Pan-Roast Duck Breast. This eatery takes the farm-to-table concept literally, growing and producing its own produce and eggs on the company-owned farm.
Wi-Fi: Complimentary Wi-Fi is available in approximately 85% of the airport terminal's main floor, including most gates, sitting areas and food courts.
Official website: http://www.flymsy.com/
To read our previous airport reports, click here.
Learn more about New Orleans & the Louis Armstrong New Orleans International Airport in our Destination Guides.