Delta's Valet Service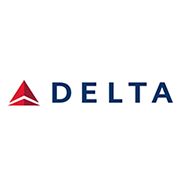 Airlines are constantly looking for ways to speed up the process of getting passengers onboard the aircraft, and Delta is currently testing a program that they hope will facilitate this.
The complimentary, voluntary program, called Early Valet, involves Delta staff offering passengers in the boarding lounge the opportunity to have their carry-on luggage preloaded on to the aircraft. Bags will be specially tagged, such as you would see at a hotel for room delivery, taken on to the aircraft before boarding, and stowed above the passenger's seat based on their seat assignment.
The program—which began on June 1st and is expected to end August 31st—is focused on holiday travelers and is available at the country's busiest airports—Atlanta, Detroit, Minneapolis-St. Paul, Seattle, Salt Lake City and New York (JFK and La Guardia). The expectation is that frequent business fliers know how to board and stow their luggage efficiently.
Although some passengers may not wish to be separated from their valuables, such as their laptop and jewellery, it is conceivable that non-valuables be packed in the largest bag and valuables be carried on personally.
It will be interesting to see the results of this test program. There are definite benefits to some passengers, such as those who are traveling with children and those who find it physically challenging to lift their bags into the overhead compartments. It may also be detrimental to those who are traveling with oversized carryon and who end up having to check their bag and pay a fee.