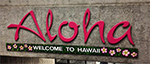 Honolulu International Airport is one of the world's largest and busiest airports. At over 4,500 acres, it covers more area than all of Waikiki. There are four runways, including the 12,000 foot Reef Runway, which was the first runway in the world built entirely off-shore.
The airport plays host to over 20 million passengers a year and is served by 27 international and domestic carriers, three interisland airlines and four commuter airlines. All baggage departing Hawaii for international destinations or the mainland must clear an agricultural inspection.
Getting Around: The airport has three terminals—the interisland, the commuter and the overseas terminal. The overseas terminal is comprised of three concourses, the Central, Ewa and Diamondhead.
Wiki-Wiki buses offer a free shuttle service between the Main Terminal and the three concourses as well as to the inter-island and commuter terminals.
The airport is located 10 miles from Waikiki and six miles from downtown. Traffic is often congested and the trip to the airport can sometimes take up to an hour—be sure to leave ample time for the commute. Cab fare runs $35-$40.
Relaxing: There are a variety of ways to pass the time while waiting for a flight. Enjoy free Hawaiian entertainment in the lobby, check out the WWII-related historic displays in the atrium or spend time relaxing in the peaceful Cultural Gardens.
The Chinese, Hawaiian and Japanese gardens—which surround the main terminal lobby and the central or "Y" concourse—were designed in 1962 when the international airport was built on this site, and they display the influence of these three nationalities on "island living" in the state of Hawaii.
Dining: The Kona Brewing Company's airport pub—located in the center of the main terminal—is the place to go for a frosty pint and pub-style food. You'll find all five of the brewery's beers on tap and, along with a good view of aircraft, you'll have access to one of the airport gardens complete with koi ponds.
If you're in the inter-island terminal and looking for a bit of aloha spirit with your meal try Stinger Ray's Tropical Bar and Grill. It's known for its island-inspired menu which includes fish tacos, poke and a Hawaiian platter.
Wi-Fi: The Wi-Fi service provider is Shaka Net. Wi-Fi is available in the gate and departure areas of the terminals, as well as in the Hawaiian Air Premier clubs in the Inter-Island Terminal. Cost is $6.95 for two hours or $8.95 for 24 hours.
There are also internet kiosks offering Wi-Fi at a cost of $.35 a minute (minimum of $1 for cash purchases and $5 for credit card purchases.
Official website: http://hawaii.gov/hnl
To read our previous airport reports, click here.
Learn more about Hawaii & the Honolulu International Airport in our Destination Guides.