Netflix Coming to Virgin America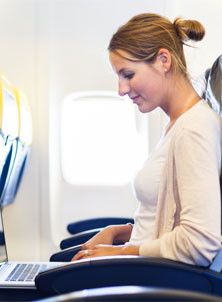 If you've ever wished you could catch up on your binge-watching on Netflix while flying, but have been frustrated at the slow service available onboard your flight, things may be about to change. Airlines are continually working on ways to speed-up inflight Wi-Fi connections and Virgin America is hopeful it has found a way to do just that.
Up until now, the lack of speedy Wi-Fi has been due to the inability of the aircraft to carry the weighty antenna needed to supply it. Now, in partnership with communications company, ViaSat, Virgin America will be able to offer Wi-Fi at speeds eight to ten times faster than any other inflight Wi-Fi currently offered. Powering the service will be a ViaSat's Ku/Ka dual-band antenna, which, according to Virgin America, "includes the highest-capacity Ka band satellite in the world offering 140 gigabits per second."
This means that guests can expect internet service similar to what they have at home, and should be able to stream videos from services such as Netflix, YouTube and Hulu.
The new technology will be trialled on one aircraft, beginning in September, with roll-out continuing in early 2016, to 10 new A320s scheduled for use on the airline's Hawaii runs. During the trial period, Wi-Fi will be offered free-of-charge to guests with pricing being introduced with the final rollout.