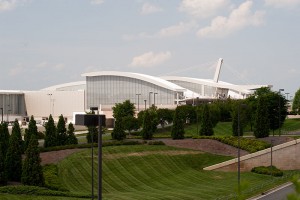 Raleigh-Durham International Airport is located halfway between the downtowns of Raleigh and Durham, North Carolina. The airport serves the Research Triangle district which is home to an increasingly important collection of technology companies along with 3 major research universities. The airport offers primarily domestic service – aside from Air Canada service to Toronto and a few flights to Mexico and the Caribbean, American offers service to London. In 2016, Delta will start service from RDU to Paris.

Getting Around: Raleigh-Durham has 2 terminals, connected by a shuttle bus outside of security. However, Terminal 1 serves only Southwest airlines and Terminal 2 handles all other airlines so it is unlikely that passengers would ever need to go from one terminal to the other. Terminal 2 has concourses labeled C and D, but it is effectively one long concourse and is easily walkable.

Relaxing: Raleigh-Durham is a simple airport without much in the way of special seating areas or art galleries. For a unique experience during your time in the terminal, check out 2nd Edition Booksellers near gate D8. It is the only bookstore in a US airport that features exclusively used books. While they have a collection of recent titles and popular titles, they also have a good number of rare works. For example, this summer, the store included an 1855 first edition book of poems by Alfred Lord Tennyson.

Dining: There are two great options for local flavor. Brookwood Farms, near gate C9, offers Carolina pit BBQ featuring pulled pork. It's served fast food style, but is a unique experience for those who aren't from the region. Meanwhile, for a full service restaurant, 42nd Street Oyster Bar in Raleigh is a local institution and their airport location does well to extend that experience to travelers (located near gate C1).
Wi-Fi:
Official website: http://www.rdu.com/
To read our previous airport reports, click here.