Airport Hotels are Changing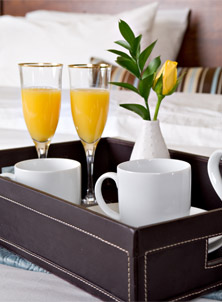 No one can deny the convenience of staying in an airport hotel; it often means you're not battling fierce traffic to or from the downtown core or adverse weather conditions, both of which offer the potential of a missed flight. In the past, however, airport hotels haven't always met expectations when it comes to service, décor and amenities…but that's in the process of changing. Your UNIGLOBE Experts are here to fill you in on what you can expect to see at airport hotels as airports continue to expand and upgrade their services.
What can I expect at a "transit" hotel?
Many international hubs have already incorporated a transit hotel into their terminals. Generally located airside of security, these hotels cater to those who have a long connecting time, want a nap and a shower, but due to the short duration of their stay, don't want the inconvenience of having to clear immigration.
Rooms are generally not much larger than the bed and while you may find amenities such as a lounge, restaurant or business center, you'll often end up dining within the terminal's retail area.
Transit hotels are currently found in many European and Asian airports as well as at a few U.S. terminals. Minute Suites can be found at the International airports at Hartfield-Jackson Atlanta, Philadelphia and Dallas-Ft. Worth. Internationally, transit hotels can be found in Amsterdam, Frankfurt, Singapore, Seoul, Hong Kong and New Delhi (to name just a few). They're a great option for a short stay.
I've stayed in a chain hotel at the airport in the past and wasn't impressed.
As the number of business travelers continues to grow, demand at airport hotels has been steadily increasing, driving hotel chains to invest in their airport properties. As a result you'll see many hotels currently undergoing renovations and upgrades. A couple of recent renovations saw the Grand Hyatt Dallas Ft. Worth overhaul its restaurant, bar and private dining room while the Hilton Chicago O'Hare recently wrapped up the second stage of a three-part renovation of its meeting rooms.
Some airport hotels – such as the Crowne Plaza at Singapore's Changi airport and the Sama-Sama Hotel at Kuala Lumpur airport – were built to compete with conference hotels elsewhere in the area, offering pools, spas, lush gardens and facilities for a mid-size conference.
Expect that as competition for business continues to expand, you'll see fewer run-of-the-mill hotels and more upgraded options available.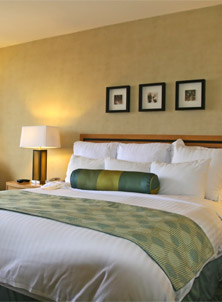 What are some of the best airport hotels in North America?
According to Skytrax research, which provides ratings and rankings of airports and airlines, the best airport hotel in North America is the Fairmont attached to the US departures terminal at Vancouver International Airport, which also rated as the 6th best airport hotel in the world.
The top also includes the Grand Hyatt at Dallas-Forth Worth, Westin at San Francisco, Hilton Atlanta, and the Hilton at Boston Airport. While Skytrax has a wealth of data for their ranking, our experts prefer the Marriott Gateway in Atlanta, largely due to the convenience of the 3-minute connection to the airport on the Atlanta Airtrain, as opposed to having to wait for a shuttle bus.
The newest airport hotel in the US is opening November 19 – the 519-room Westin at Denver International Airport.