Eating Healthy on the Road.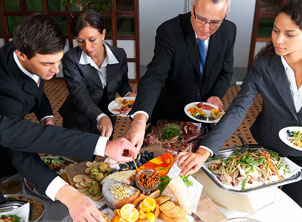 Eating properly while on the road can be tricky, especially with changes in time zones, hours spent in airports, living in hotels, business meetings at all hours and more.
It's easy to grab fast-food on the run, but as more and more of us pay attention to what we eat, this really isn't an acceptable option. And for those following any kind of restricted diet, your choices are even more limited.
So how can you make an effort to eat sensibly while traveling? The UNIGLOBE experts suggest some healthy dining options.
How can I avoid the high-fat, carb-laden food at airports and on flights?
A number of hotels across the country are now offering take-out gourmet meals for their guests to take with them on their flights. They are packaged to fit in your carry-on and abide by the TSA's 3.4 ounce maximum for liquids.
These meals are generally more convenient, affordable, healthy and better quality than what you can get at the airport. Hotels offering this handy service include the Hotel Bel-Air in Los Angeles, the Four Seasons in both Boston and Seattle and Kimpton's Hotel Monaco in Denver. Check with your hotel to see if they offer this option.
If you're not staying at a hotel with this service, look for airport restaurants that cook with fresh, local ingredients and avoid fast food chains. Follow our Airport Report every month for information on the best of airport dining.
I have early morning meetings and have no time for breakfast
Rather than grabbing a muffin or a bagel on your way to your early-morning meeting, pack packets of instant oatmeal in your luggage. As most hotel rooms include a coffee maker and mugs, you'll have everything you need to make your own breakfast. Empty your oatmeal into a mug, add hot water from the coffee maker, stir, and you've got a speedy, healthy breakfast.
I get hungry during the day and usually grab a bag of chips and a soda from a vending machine
Pack a bag of nuts or trail mix in your luggage (carry in individual bags, if desired) and put one in your briefcase for a quick and healthy snack in the cab between meetings. A bottle of water does far more to hydrate you - without a sugar high - than a soda.
I'm on a restricted diet (such as vegetarian or gluten-free)
Traveling is particularly difficult if you only eat specific foods. Don't be discouraged if there's nothing on a menu that you can eat. Many restaurants will attempt to accommodate your needs. For the odd occasion that this isn't possible, you might want to carry protein bars with you – it's better than going to bed hungry!
Overall, stay away from fast-foods and foods with empty calories that leave you feeling hungry shortly after eating. Drink water, not sugary drinks, limit your caffeine and alcohol and focus on eating fresh, local ingredients if possible. Eating well is an important factor is staying healthy and fighting off germs.