Amsterdam's Schiphol airport is one of the busiest airports in Europe and is the hub for KLM Airlines. Up to 70% of passengers at Schiphol are connecting, so efficiency of transit has always been a priority there. With a single terminal design in which all gates are walkable under the same roof, it has always been a great airport in which to connect and recent changes to the security setup have improved this. Additionally, if you connecting to a train, there is a station in the airport with quick and convenient access to central Amsterdam and other points throughout the Netherlands.
Getting Around: Schiphol is designed as a single terminal, with 8 piers radiating from 3 connected plazas, which they refer to as lounges (not to be confused with airline lounges). However, walking from one end to the other can take time. To aid navigation, there are signs posted advising estimated walking time to other each pier. The airport is segregated into 2 areas – one for 'Schengen' flights (to/from most EU countries, where there is no border control) and one for non-Schengen flights. This means that if you are connecting from the US to the UK, middle east or Africa, you won't need to go through passport control.
Schiphol used to conduct security screening at each gate for non-Schengen flights. This has recently changed through the construction of 5 central security filters. The security screening areas are spacious and efficient with automated tray systems and a layout which allows multiple people to load their trays at the same time.
Relaxing: Schiphol is also known as an airport with plentiful (free) opportunities for relaxing. While many airports include art project, few can compare with Amsterdam. They have an outpost of the famed Rijksmuseam within the airport that features works from many of the Dutch Masters. The museum is temporarily closed during airport renovations but is scheduled to open again in autumn 2016. If you're hoping to get some shut-eye, there is a large collection of comfy, reclining chairs with dim lighting on the upper level of Lounge 2. Just don't forget to set an alarm on your phone.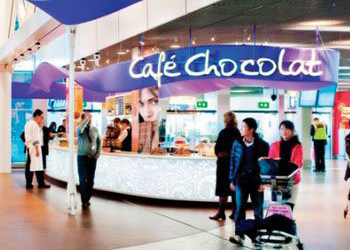 Dining:There is an excellent selection of restaurants and bars, with a focus on real food over fast food. We like Bubbles Seafood & Wine Bar in Lounge 1, where the aquarium and backlit wall of wine provide a dramatic backdrop to the seafood selections. For the sweet tooth, and just across from Bubbles, is Café Chocolat which features an incredible array of chocolate creations.
Wi-Fi: Unlimited free wifi is available throughout the airport using network "Airport_Free_Wi-Fi'". Premium services are also available for a fee, using network "Airport_Paid_Premium_Wifi".
Official website: www.schiphol.com
To read our previous airport reports, click here.