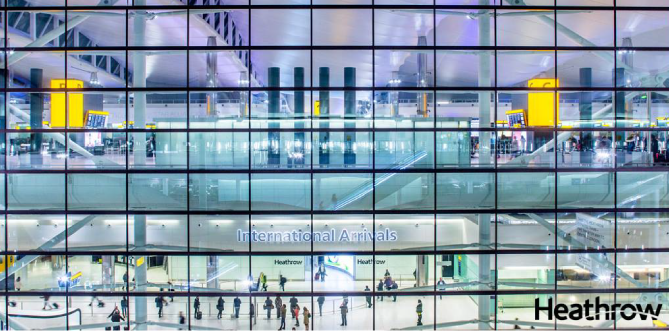 *image from Heathrow Airport (@HeathrowAirport)
Delta Airlines recently moved all their flights to or from London's Heathrow airport from their former home in Terminal 4 to Terminal 3. To explain the strategy behind this, as well as the benefits to frequent travelers, we turned to business travel expert Road Warriorette.
What is the strategy behind this move?
In 2013 Delta bought a 49% stake in Virgin Atlantic. They've done a good job of offering customers a seamless experience, specifically with regard to lounge access and upgrades. However, to this point Delta has had their flights through Heathrow split between two terminals--Terminals 3 and 4. For many reasons this has made for a very complicated transit experience for Delta passengers. As of September 16 all Delta flights will go through Terminal 3, where Virgin Atlantic is located.
Why is this good for passengers?
Heathrow is notorious for lengthy transit times between terminals. For example, on an upcoming trip the Heathrow connection planner recommends no less than 90 minutes to get from my arrival gate in Terminal 3 to my departure gate in Terminal 4. Keeping all Delta and Virgin Atlantic flights in the same terminal will save passengers the headache, hassle, and most importantly, the extensive amounts of time traveling between terminals. It also makes managing delays or flight changes much simpler since all flights are in the same terminal.
Another huge benefit is for those flying business or first class. Delta One customers get to take advantage of the Virgin Atlantic Upper Class Wing, which is a 10-minute transfer from your car to the Virgin Atlantic Clubhouse, with private security and private baggage service. Again, this saves so much time and hassle that would otherwise be spent waiting in lines for check-in and security.
For Delta One and Diamond and Platinum Medallion members, this saved time can be spent in the Virgin Atlantic Revivals Lounge, where passengers can take advantage of showers, spa treatments, made-to-order breakfast, and clothes pressing.
Do you have suggestions for getting through Heathrow, regardless of airline?
As mentioned above, Heathrow transfers can be complicated and time-consuming. They have put together a connections guide to give you an idea of how long it will take to get from one gate to another. General rule of thumb is to allow at least two hours between connections to ensure you don't miss your flight. Once you've put in your arrival and departure flight details you are given detailed instructions for your transfer, including information about the transfers bus, baggage allowances, and security screenings. There is also a more detailed information page about travel between terminals.
In addition, as with any trip it's a good idea to research carry-on baggage guidelines and security procedures of any airports you are visiting.

*image from Heathrow Airport (@HeathrowAirport)