Travel Cost Savings Secrets for 2013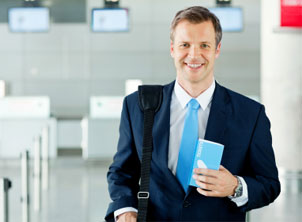 As you set your business priorities for the year ahead, the experts at UNIGLOBE Travel remind you how to save on the expenses of business travel by using a combination of three elements - planning ahead, staying flexible and using reward and incentive programs to your advantage.
Save on Airfare
Flexibility and advance planning are key when booking air travel. We understand that last-minute travel is sometimes unavoidable and even last-minute deals can be found; however, buying your air ticket in advance can dramatically impact the price. Looking at a sample one-way fare for LAX-ATL on Delta in mid-February, the lowest available fare booked three weeks in advance jumps to 300% of the original fare if you wait until the week of the flight - and that is assuming the low fare class is still available. The most common date ranges at which fare change are 21, 14, 7 and 3 days prior to a flight.
Save on Care Rental
The rental car industry has increased fleet utilization in the past several years. What does this mean to you? It means that, on average, there are more renters per car and a greater chance of cars being unavailable, particularly at smaller airports. In addition to booking ahead to ensure that you have a car at a decent rate, joining the membership program of your preferred car rental can help. Most rental car companies will hold back a certain number of vehicles per location for members of their loyalty programs. Additionally, if you require a larger vehicle, many of the loyalty programs allow you to book and pay for an intermediate car, while selecting a larger vehicle from the preferred selection aisle. If you don't need the larger car, don't take it - they tend to consume more fuel and fuel costs can add up depending on the length of rental.
Save on Accommondation
When selecting a hotel, flexibility of location is key. If you are already planning on renting a car, consider hotels farther from your meeting location which may be less expensive. If you weren't planning on a rental car be wary of how quickly taxi costs can add up and consider a hotel closer to your meeting. Once again, loyalty programs can save you money with hotels, as many will unlock discounted amenities. For example, as a member of the Fairmont President's Club (even at the basic level), you will get access to free wifi at most of the chain's locations.