Packing Effectively in the Era of Carry-On Luggage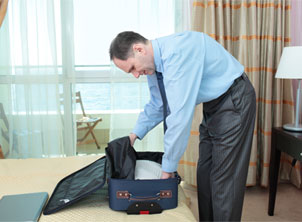 With pretty much every airline charging for checked baggage and many businesses trying to cut travel expenses, the current trend is to travel with only carry-on luggage. This means learning to pack effectively. Although difficult, once you try it, you'll probably love no longer lugging over-stuffed, heavy bags.
If you're traveling for more than a week, you may of course, have to pack more and pay to check your bag. Keeping your belongings to a minimum is still your goal, though, as there is usually a weight limit of 50lb per bag. Heavier than that and they want more of your money!
What kind of suitcase should I use?
Airlines put a limit on the size of luggage allowed. Most carriers have a limit of 22" on carry-on bags. While they don't all measure your bag, some of them are getting stricter, as more and more people opt for carry-on only. A garment bag with a number of pockets works best for business attire and evening wear. A soft-sided rollerboard is light and easy to stow in the overhead compartments. Internal and external pockets are a desired feature.
Carrying toiletries
Remember that if you are packing a carry-on bag only, your toiletries must meet TSA regulations and must be 3.4 oz or less. Buy sample size toiletries or re-usable bottles that meet the regulations. Pack your liquids in a quart-size ziplock bag as you typically will have to remove them and have them scanned separately. Include a small amount of laundry soap so that you can wash some items at the hotel, allowing you to pack less and save on hotel laundry fees.
Packing clothes
Choose clothing items that can be mixed and matched. Remember, less is better. Ladies, accessorize with scarves, which take up next to no space. Wear your heaviest shoes on the flight and only pack one other pair (perhaps in an outside pocket). Pack rolled-up socks inside shoes and tuck smaller items in pockets. Consider which items are easiest to wash in your hotel room and pack fewer of them.
Purchase a compression bag from Amazon or your local travel store. Once clothes are placed inside and air is released, the clothes are reduced to 1/3 their original size. Place this on the bottom of your suitcase, with heavier items on top.
Packing Electronics
Most airlines allow a carry-on bag and a personal item, such as a purse or briefcase. Pack your laptop, ereader and iPod in this second bag. Purchase a packing cube (available in different sizes) for all the electric cords that accompany your electronics. This keeps them all in one place. Don't forget to pack any medications, prescriptions and eyeglasses in your personal bag, in case you are made to check your suitcase at the gate.