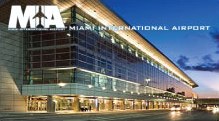 With the airport's Capital Improvement Program (CIP) nearing completion, MIA will have an entirely renovated South Terminal and a brand new North Terminal. For those who are curious about an airports inner workings, Miami International Airport is featured in a six part series on The Travel Channel.
Getting around: On Level 3 of the airport all concourses are connected by moving walkways, making it easier to get to your gate quickly. The new MIA Mover connects passengers from the airport to the rental car center and can be boarded just across from the main parking lot.
Dining: The best dining options can be can be found in Terminal D so jump on the people mover and head to Beaudevin near gate D24. This wine bar serves up single glasses or 3 oz flights, they even have small menu including melon and prosciutto. If you are looking for good food, but something more low-key swing by gate D10 and take a seat in the Icebox Cafe. This offshoot of the South Beach cafe serves up a range of sandwiches, soups, and hot dishes including pulled pork which might just be the best you have ever had.
Relaxing: The airport has three new installations for visitors to check out. Artist Paul Villinski created an unique art exhibit titled "air chair" from a discarded wheel, steel and wood materials that floats above passengers heads in North Terminal D. In the same terminal, Roberto Juarez has pained a flower fence mural rendering the state's wildflowers by using the geometric patchwork designs of Florida's Miccosukee Tribe of Indians. On the third floor of Terminal J you can find Aramis O'Reilly's two kaleidoscopic mixed-media murals titled Hortensia.
Wifi: The airport offers free wifi access to a limited number of travel related websites through their complimentary portal (http://airportwifi.com/MIA/). All other wifi usage will be subject to a fee of $7.95 for 24 continuous hours or $4.95 for the first 30 minutes.
Official Airport website: www.miami-airport.com