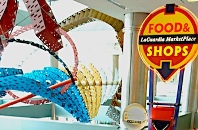 LaGuardia Airport is the smallest of New York City's three main airports. The airport is subject to a government-imposed perimeter restriction which limits flight to 1,500 miles (except for Saturdays and Denver). It also lacks customs facilities so it is only used for domestic flights or those from airport with US preclearance (like Toronto). The airport has often been in the news for its outdated facilities and VP Biden comparing it to a third world airport. In July 2015 a massive plan was announced the rebuild the entire airport, with construction to begin in summer 2016.

Getting Around: LaGuardia is composed of four terminals: the historic Marine Air Terminal A (home to the Delta Shuttle service to Chicago and DC); the Central Terminal B (home to most airlines other than Delta) and Terminal's C and D (the rest of Delta's operations along with Westjet and the US Airways Shuttle). Each building is separate and is connected by a bus that runs outside of security, but there is also a walkway between C and D which takes about 5 minutes.

Relaxing: Many airports are offering art exhibits within their terminals. At LaGuardia, the Marine Air Terminal (A) itself is a work of art. An Art Deco building constructed in 1939, it is on the National Register of Historic Places. Inside the terminal rotunda is a massive mural showing the history of aviation.

Dining: For a standout hamburger, try Custom Burgers by Pat La Frieda. You know the meat has to be good when the restaurant is named for a butcher once called the "Magician of Meat". Custom Burgers has locations in Terminals C and D. If you have a long layover to wait through, take a seat at Bisoux in Terminal D where chefs Riad Nasr and Lee Hanson have created a luxurious menu of French country classics.

Wi-Fi: Complimentary Wi-Fi is available for 30 minutes, with hourly, daily and monthly purchase options beyond that. The service is provided by Boingo.
Official Airport website: http://www.panynj.gov/airports/laguardia.html
To read our previous airport reports, click here.