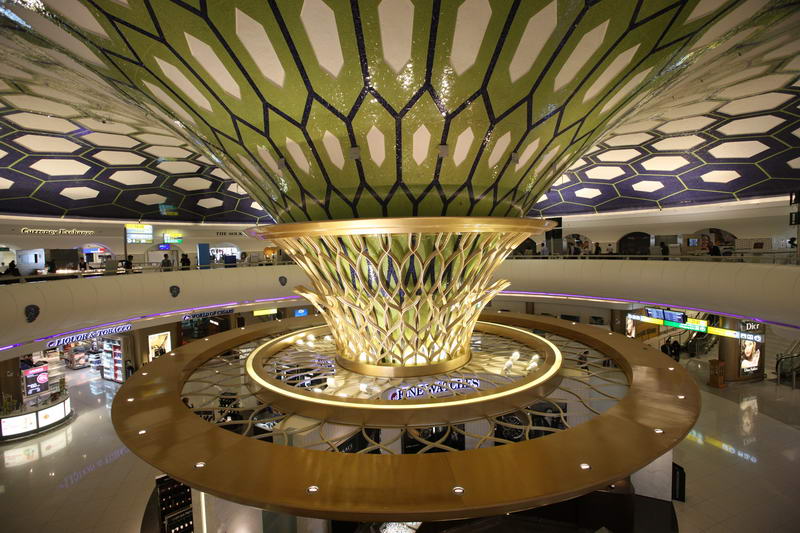 Abu Dhabi International Airport is home to Etihad Airways, the world's fastest growing airline. As the hub of an airline whose business model is built on connections, the airport experience tends to be quite positive. As a testament to their desire to simplify connections, Abu Dhabi built and paid for a US pre-clearance facility to allow US bound passengers to arrive in the US as domestic passengers, as occurs with passengers from most Canadian airports.
Getting around: If making a connection between terminals, it should not take longer than 20 minutes by foot, as all three terminals are adjacent to each other. Should you prefer, there is a shuttle bus available which operates every 15 to 20 minutes. However, connections between terminals do require you to re-clear security.
Dining: For some local cuisine, try Shawarmanji for their traditional middle Eastern shawarma sandwich, located in Terminal 3. For western cuisine, visit Negroni, also in Terminal 3, for a selection of pizza, pasta and paninis.
Relaxing:
In the Terminal 3 transit area, there are few dozen GoSleep sleeping pods. The pods insulate you from the sounds and crowds of the terminal to allow you a brief nap between flights. In addition, they provide a secure storage place for your carry-on bags and allows you to charge your electronic devices. Prices are around $26 for a 2-hour period.
Wifi: Free wifi is available throughout the airport.