Los Angeles International Airport (LAX)

Welcome to Los Angeles International Airport (LAX)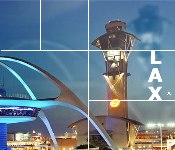 LAX holds the distinction of being the fifth busiest airport in the world and to accommodate their growing number of passengers the airport has undergone quite a bit of construction over the past few years, and work seems to be never-ending. While the construction can cause challenges, it is with a worthy aim as LAX is a much-maligned airport amongst frequent travelers and the newer facilities have received positive reviews.
Getting Around:
There are nine terminals at LAX, connected via a shuttle bus service located on the Lower or Arrivals level at each building. If you land and connect at Terminals 4 through 8, you can walk through the passageways without having to exit security. However, if you land at Terminals 1, 2, 3 or the Tom Bradley International gates and need to connect to a flight elsewhere at LAX, leave time to exit and re-enter security, and to wait in line-ups for the shuttle buses. Recommended connection time for passengers transferring from domestic to international flights: 1.5 hours.
Relaxing: Like many airports today, LAX has regularly rotating art exhibitions throughout the terminals. We were particularly impressed with Elevate in Terminal 2, featuring hundreds of paper airplanes in a bird-like formation. LAX is a very crowded airport so looking for a truly quiet place to relax may be an exercise in futility. It is one of the few airports where we recommend paying the one-time use fee to access one of the airline lounges.

Dining: At the Tom Bradley International, indulge in one of the countries great burgers at Umami Burger. Umami has painstakingly crafted a series of burgers designed to maximize the flavor combinations and is for serious burger lovers – why else would their blog feature an article about the right way to eat a burger. For a taste of Mexico, try Lotería Grill, which grew out of the LA Farmers Market and offers quick service locations in Terminals 5 and 7. We love the fish tacos made with red snapper and cabbage.
Wifi: LAX offers complimentary wifi, or faster speed premium wifi at an additional cost.