Welcome to Chicago Midway Airport (MDW)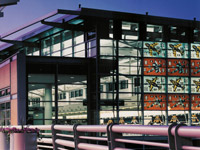 Midway International Airport was Chicago's first municipal airport - opening in 1927 - just six months after Charles Lindbergh made his historic flight across the Atlantic. Today it is one of the fastest growing airports in the nation. It offers flights to over 60 destinations, with Southwest Airlines holding the largest market share.
The Chicago Department of Aviation is leading the way in airport green initiatives. The recently-opened $50,000,000 Consolidated Rental Car Facility includes features such as wind turbines, a green roof, solar panels and an underground rain water storage system. In order to lessen the use of plastic water bottles, Filtered-Water Bottle Refill Stations are available in the terminal (once you are through security).
Getting around: Midway has one terminal, which is divided into three concourses (A, B & C). Concourse A serves a number of different airlines, while B & C serve Southwest Airlines. As there is only one terminal, getting around is easy.
Dining: Midway offers a wide variety of dining options with everything from McDonalds, to a Chicago-style hotdog at Gold Coast Dogs to Harry Caray's Seventh Inning Stretch, which is Midway's only sit-down restaurant. In addition to the restaurants on each concourse, you will find a food court, located in the Midway triangle (just through security, at the entrance to Concourses A, B & C).
Relaxing: If you have time between flights, you can take the history tour, which includes three different exhibits, within the terminal. The airport is named as a memorial to the Americans who were killed at the Battle of Midway, during World War II. The Battle of Midway Memorial includes photos, narratives and three interactive video kiosks. The other two exhibits are The Marine Memorial and Vision of an American Metropolis.
Wi-Fi: $6.95 for a 24 hour period, and is available in most public areas. There are also charging stations offered throughout the terminal.