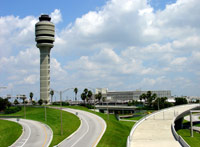 Orlando is one of the busiest American cities for conferences and conventions, with a large number taking place in September and October. This convention business contributes to Orlando's ranking as the second busiest, non-airline-hub airport in the country, behind only Las Vegas. Overall, the airport is the thirteenth busiest in the country.
Getting around: The airport consists of two terminals, A & B. Each of the terminals has an Airside Terminal at each end - Airside 1 and 2 at Terminal A and Airside 3 and 4 at Terminal B. Upon arrival in Orlando the roll-on, roll-off AGT (train) will transport you from the Airside Terminal to the Main Terminal.
Orlando is approximately nine miles from the airport and there are plenty of transportation options to your hotel, with shuttles running to most areas of the city. The cost of the shuttle varies, depending on where you're going. International Drive, where the Convention Center is, will cost you $19 one-way, while downtown Orlando is $18. A cab will cost $35 - $40. Some hotels offer complimentary shuttles so it's a good idea to check before paying for one.
Orlando is the largest car-rental market in the world, with most large companies located on-airport. The rental-car companies are located in Terminal A and Terminal B on the Ground Transportation Level (1).
Dining: Hemisphere Steak and Seafood Restaurant in the Hyatt Regency hotel is an award-winning steak house with a variety of dishes to tempt your palate. Try the Alaskan Halibut or perhaps the Filet Mignon with butter-poached Pine Island shrimp. McCoy's Bar and Grill, also located in the Hyatt hotel, offers a wide assortment of menu items, focusing on fresh, locally sourced ingredients. The Hyatt Hotel is physically part of the airport terminal - but is outside security - something to consider if you're planning on dining there. Or experience a taste of the Caribbean at Kafe Kalik, located at Airside 2.
Relaxation: Art is an integral part of the overall design of the airport. Take a walking tour of the large, permanent art collection, enjoying the beautiful paintings and murals throughout the airport. You will also periodically find temporary art exhibits, sponsored by the Orlando Aviation Authority. Or, if you'd rather, visit the XPresSpa, found at each of the four gate areas.
Wi-Fi : Wi-Fi is available in all public areas of the airport and is free of charge.
Official Airport website: http://www.orlandoairports.net/