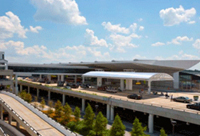 In 1980, Amtrak opened its BWI station - making it the first US airport with a train station on airport grounds - thus linking the airport with the Northeast Corridor and making it an easy commute to the nation's capital. This made BWI a logical option for passengers flying to Washington, DC as the train to downtown DC takes approximately 30 minutes (no worries about traffic jams).
In the 60 years the Baltimore airport has been in its present location it has consistently ranked in the top ten U.S. airports, for customer satisfaction. It continues to set new records every year for passenger numbers - reaching almost 23 million in 2012. Terminal enhancement construction is expected to be completed Summer of 2013.

Getting around: The terminal is not large and is under one roof, so getting around is easy - just ensure you leave enough time to walk between gates. Five concourses (A-E) extend from the main building. Concourse A is dedicated to Southwest and Concourse E is the International terminal. Approximately a dozen airlines service the airport.
Dining:
The majority of
dining options
are found in Concourses A, B & D. If you're flying out of C or E you might want to pick up something before you head to your gate.
Enjoy a meal at the Silver Diner - a 50's style diner which partners with over 15 local farmers to serve the freshest ingredients to its diners. Even vegetarians should be happy there. Obrycki's has a reputation for the best crab cakes in town; their goal is to create an enjoyable experience centered on great Chesapeake regional food. In 2011, Frommer's named Obrycki's as one of the top ten airport restaurants in the US.
Relaxation:
Relax between flights in the meditation room, a quiet sanctuary on the upper level , or, if you feel the need to stretch your legs, simply walk a portion of the
BWI Cardio Trail
(inside the terminal).
Wi-Fi: Complimentary, basic Wi-Fi is offered in 45 minute increments. Customers may use as many free Wi-Fi sessions as they wish. A fee-based Wi-Fi service is also available for customers wishing greater band-width and an uninterrupted, commercial-free session. The cost of this is $4.95/hour or $7.95/day.
Official Airport website:
http://www.bwiairport.com/en