General
Money
Entry Requirements
Health & safety
Weather
Embassies
Etiquette
Public Holidays
Attractions
Map
---
Introduction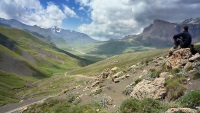 Mountainous Azerbaijan ©Matthew Hadley
Azerbaijan, 'Land of Fires', is famed for its (eternal fires), healing mineral springs and oil spas and carpets.
Situated in the South Caucasus region between Europe and Asia and bordering the Caspian Sea, Azerbaijan is important in the area because of its involvement in energy projects; in fact Azerbaijan was the first country to explore the region's enormous energy potential. Besides crude oil, which is its number one export, the country is famed for a unique type of oil that is used for medicinal purposes. Naftalan is believed to be an effective treatment for rheumatism, arthritis and psoriasis, and Naftalan town has special treatment centres and spas where patients sit up to their necks in baths of the rare oil. There are also more than 1,000 mineral springs throughout the country.
The capital of Azerbaijan, Baku, is the largest and most cosmopolitan city in the Caucasus region, and is the country's political, scientific, cultural and economic centre, situated on the Caspian Sea. Baku is about 5,500 years old and visitors can see some wonderfully preserved relics from its past, as well as visit the fire-worshippers temple complex, Atashgah, and the natural gas-fuelled Yanardag (Fire Mountain), one of many impressive eternal fires on the Absheron Peninsula.
Throughout the country there are thousands of historical monuments, ancient cities, fortresses, palaces, mosques and ancient oases. Most of its territory is mountainous and dotted with beautiful lakes. There are numerous resorts situated along the sandy beaches of the Caspian Sea.
The Republic of Azerbaijan gained its independence after the collapse of the Soviet Union in 1991, at the same time as Armenia, and there is ongoing conflict between the two countries over the small Nagorno-Karabakh enclave, which is officially part of Azerbaijan, but largely populated by Armenians.
Communications
The international dialling code for Azerbaijan is +994. The outgoing code is 00 followed by the relevant country code (e.g. 0044 for the UK). Area codes are in use (e.g. 12 for Baku). There are few telephone lines outside of the main cities, and international calls usually require the use of operators, many of whom do not speak English. It is possible to make international calls from public phones, which require a card; local phones use tokens. GSM coverage is basic and includes the area around Baku as well as some other cities. Roaming charges are high and it is best to buy a local SIM card. Internet cafes (klubs) are available in Baku.
Emergencies
101 (Fire); 102 (Police); 103 (Ambulance).
Languages Spoken
Azerbaijani, or Azeri, is the official language. Turkish and Russian are widely spoken; few people speak English.
Duty Free
Travellers older than 18 may bring 600 cigarettes, 3 litres of alcohol, 10kg of food products and goods up to the value of US$1,500 without paying customs duty. Banned items include weapons, narcotics and material encouraging terrorism or violence. Permission must be granted by the government before cultural artefacts, such as antique carpets, are exported from the country.
Electricity
Electrical current is 220 volts, 50Hz. Round, two-pin attachment plugs and Schuko plugs are in use.
Climate Info
Nine out of the 11 existing climate zones are present in Azerbaijan, although most of the country is dry semiarid steppe. Generally summers are hot and winters mild and wet, with snow in the mountains. Average temperatures range from 41°F (5°C) in the mountainous regions to 81°F (27°C) in the lowlands in summer, and 14°F (-10°C) to 37°F (3°C) in winter. The best time to travel for warm and dry weather is between April and October, but mountainous areas are best visited in the summer months of July and August. Baku in the summer is very hot and humid.
Late spring and early summer, between April and June, are the best time to visit Azerbaijan, as the weather is warm and the flowers are in bloom.
Passport
A valid passport and a visa are required for travel to Azerbaijan. Visas are only available on arrival if the passport holder also has an official invitation letter from Azerbaijan. E-visas can be obtained before departure. Passengers visiting relatives must register with local police. If staying at a hotel, the hotel staff will do this for the visitor. It is recommended that passports be valid for six months after departure from any holiday destination.
Entry Requirements
.
UK nationals require a valid passport and a visa which should be obtained before departure at https://evisa.gov.az/en/
Canadians require a valid passport and a visa which should be obtained before departure at https://evisa.gov.az/en/
South Africans US nationals require a valid passport and a visa which should be obtained before departure at https://evisa.gov.az/en/
Irish nationals require a valid passport and a visa which should be obtained before departure at https://evisa.gov.az/en/
New Zealand nationals require a valid passport and a visa which should be obtained before departure at https://evisa.gov.az/en/
Health
No vaccinations are required for entry to Azerbaijan, but travellers should ensure that all routine vaccinations are up to date. Vaccinations for hepatitis A and hepatitis B are recommended for all travellers. Most health facilities are state-owned and equipment and staff training often fall short of Western standards. Outside of the capital, medical care and supplies may be difficult to come by and serious medical problems will require air evacuation to another country; comprehensive medical insurance is advised.
Safety
The crime rate is relatively low, but muggings do occur in central Baku, particularly at night. Political gatherings and demonstrations should be avoided as these have become violent in the past. Unlicensed taxis should be avoided. Corruption is widespread. The area around Nagorno-Karabakh has long been the subject of dispute between Azerbaijan and Armenia and most foreign governments advise against travel to the region due to ongoing outbreaks of violence despite the ceasefire.
Emergency Phone Number
101 (Fire); 102 (Police); 103 (Ambulance).
* For current safety alerts, please visit
Foreign travel advice - GOV.UK
or
Travel.State.Gov
Money
The official currency is the new Manat (AZN), which is divided into 100 qapik. Credit cards are not widely accepted outside of large hotels and restaurants in Baku and travellers are advised to carry cash, preferably in Euro, Sterling or US dollars. Foreign currency can be exchanged at banks and official exchange bureaux, but visitors are advised to keep all receipts until departure from Azerbaijan. ATMs can be found in most major cities and towns.
Exchange Rate
Not available.
Embassies of Azerbaijan
Azerbaijan Embassy, Washington DC, United States: +1 202 337 3500.
Azerbaijan Embassy, London, United Kingdom (also responsible for Ireland): +44 (0)20 7938 3412.
Azerbaijan Embassy, Ottawa, Canada: +1 613 288 0497.
Azerbaijan Embassy, Canberra, Australia: +61 (2) 6290 5600.
Azerbaijan Embassy, Pretoria, South Africa: +27 (12) 374 7969.
Foreign Embassies in Azerbaijan
United States Embassy, Baku: +994 (12) 498 0335.
British Embassy, Baku: +994 (12) 437 7878.
Canadian Embassy, Ankara, Turkey (also responsible for Azerbaijan): +90 (0)312 409 2700.
Australian Embassy, Ankara, Turkey (also responsible for Azerbaijan): +90 (0)312 459 9500.
South African Embassy, Ankara, Turkey (also responsible for Azerbaijan): +90 (0)312 405 6861.
Irish Embassy, Ankara, Turkey (also responsible for Azerbaijan): +90 (0)312 459 1000.
Customers
Most of the country is Muslim and visitors should respect religious customs, particularly during the month of Ramadan when eating, drinking and smoking during daylight hours should be discreet as it is forbidden by the Muslim culture. Dress modestly, especially when visiting mosques or religious shrines; women should cover arms and legs, and men should not wear shorts, even in summer. Although homosexuality is legal in Azerbaijan, public displays of affection will cause offence, especially outside the capital. Foreign nationals are routinely subject to police checks and it is advisable to carry identification at all times.
Business
Personal contact and relationship-building is critical in Azerbaijan, and therefore meetings are more effective than long distance communication. It is common to exchange business cards in meetings, and these should be in Russian or English and have an Azeri translation on the reverse. The language of business is Azeri or Russian, and translators will be required for those not speaking either language. Azeris tend to be polite and visitors should be aware that a 'yes' might actually mean 'no'; culturally there is a strong emphasis on not causing 'loss of face' publically. Azeris should not be rushed to make a business decision. Gender roles are traditional and businesswomen might be met with scepticism.
Tipping
Service charges are usually included in bills and tipping is not compulsory, although taxi-drivers, waiters and hotel staff are commonly given some small change.
Public Holidays in Azerbaijan
| | | |
| --- | --- | --- |
| | 2017 | 2018 |
| New Years Day | 1 Jan | 1 Jan |
| Womens Day | 8 Mar | 8 Mar |
| Victory Over Facism Day | 9 May | 9 May |
| Republic Day | 28 May | 28 May |
| National Salvation Day | 15 Jun | 15 Jun |
| Armed Forces Day | 26 Jun | 26 Jun |
| Independence Day | 18 Oct | 18 Oct |
| Flag Day | 9 Nov | 9 Nov |
| Constitution Day | 12 Nov | 12 Nov |
| Revival Day | 17 Nov | 17 Nov |
| Solidarity Day | 31 Dec | 31 Dec |
| Novruz | 20 Mar | 19 Mar |
| Ramadan | 26 Jun | 15 Jun |
| Eid Al-Adha (Feast of Sacrifice) | 1 Sep | 22 Aug |
Travel Guide powered by www.wordtravels.com, copyright © Globe Media Ltd. All rights reserved. By its very nature much of the information in this guide is subject to change at short notice and travellers are urged to verify information on which they're relying with the relevant authorities. Globe Media and UNIGLOBE Travel does not accept any responsibility for any loss or inconvenience to any person as a result of information contained above.