General
Money
Entry Requirements
Health & safety
Weather
Embassies
Etiquette
Public Holidays
Attractions
Map
---
Introduction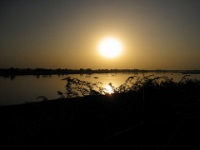 Sunset in N'Djamena ©Ben Allen
The Republic of Chad, in central Africa, is one of the continent's most troubled nations. Political conflict and violence are rife and N'Djamena, the capital city, is where most of the fighting occurs. Chad is one of the poorest countries in the world and most of the population survive by means of subsistence farming.
As far back as 700 BC, people moved into the Chadian basin in great numbers. Today it is home to over 200 different ethnic groups, with Arabic and French as the official languages, and Islam the most widely practiced religion. Its landlocked location and desert climate have earned Chad the title 'Dead Heart of Africa', although there is a Sudanese savannah region in the south which provides some respite from the desert, and the country is named for the second largest wetland in Africa, Lake Chad, on its western border.
The near-constant conflict that has plagued Chad for decades discourages most people from holidaying in the country, with the British Foreign Office and many other travel authorities advising against non-essential travel to the country. Most visitors in Chad are merely passing through and simply spend a day in N'Djamena, browsing the local markets and visiting the Chad National Museum. The nearby village of Gaoui makes a pleasant excursion, offering traditional architecture and pottery, as well as a small museum.
While safaris in Chad are not a popular activity, Zakouma National Park is among the best game reserves in central Africa; visitors can spot herds of elephants and giraffes, as well as lions, wildebeest, and many other animals. Another popular attraction in Chad is the stunning desert landscape of Ennedi. The potential for tourism is great but the safety issues and lack of infrastructure discourage visitors. As a travel destination, Chad is only tackled by intrepid tourists looking for an adventure. Unfortunately, however, it is not a cheap destination and is difficult to explore on a backpacker's budget.
Communications
The telecommunication system in Chad is very basic and expensive, with services provided by the state telephone company, Sotel Tchad. The country has one of the lowest telephone density rates in the world. The international access code for Chad is +235 and the area code for N'Djamena is 51. Chad lacks the infrastructure to support efficient broadband services but international funding has been promised to tackle the problem. There are many internet cafes in N'Djamena, although travellers will struggle to get internet access outside of the capital city.
Emergencies
17 (Police), 51 77 26 (Medical), 18 (Fire)
Languages Spoken
Arabic and French are the official languages of Chad and English is not widely spoken.
Duty Free
Visitors to Chad may import three bottles of wine and one bottle of spirits, an amount of perfume reasonable for personal use, an amount of camera film reasonable for personal use. Men may possess up to 400 cigarettes/125 cigars/500g of tobacco, while women may only bring cigarettes. No allowance is given for gifts.
Electricity
Many households in Chad have no access to electricity. Electrical outlets in Chad usually supply electricity at 220 volts, 50Hz. European two-pin plugs with round or flat pins are standard.
Climate Info
Chad has three distinct climate zones: the south of the country is in the equatorial rain belt and has a tropical climate, with temperatures that can reach as high as 104°F (40°C) and high rainfall; the central region of the country, including N'Djamena and Lake Chad, is arid and can get swelteringly hot, sometimes exceeding 113°F (45°C); and the north is dominated by the Sahara desert with extreme heat during the day and extreme cold at night. A tropical weather system known as the intertropical front crosses Chad from south to north every year bringing the rain. The wet season lasts from May to October in the south and from June to September in the central region, coinciding with the hottest time of the year. The north gets very little rain.
The best time to visit Chad is in winter and spring, between November and May, when it is cooler and dry with hardly any rainfall. During these months the temperatures range comfortably between 68°F (20°C) and 77°F (25°C) on average. During the rainy season it is often extremely difficult to traverse the country's roads, very few of which are tarred, making travel difficult. From a game viewing perspective the dry season is better as the animals are generally more visible.
Passport
Passengers with a pre-organised Entry Authorisation letter issued by the authorities of Chad can obtain a visa on arrival. A vaccination for yellow fever and proof of onward travel is required for travellers to Chad, in addition to a valid passport. Anyone who has visited the DRC, Guinea, Liberia or Sierra Leone within the last 30 days will be denied entry in to the country. Those planning to travel outside of N'Djamena may require a permit. It is highly recommended that your passport has at least six months validity remaining after your intended date of departure from your travel destination. Immigration officials often apply different rules to those stated by travel agents and official sources.
Entry Requirements
US citizens must have a valid passport and a visa to enter Chad.
UK citizens must have a valid passport and a visa to enter Chad.
Canadian citizens must have a valid passport and a visa to enter Chad.
Australian citizens must have a valid passport and a visa to enter Chad.
South African citizens must have a valid passport and a visa to enter Chad.
Irish citizens must have a valid passport and a visa to enter Chad.
New Zealand citizens must have a valid passport and a visa to enter Chad.
Health
Chad is a malaria area and prophylaxis is recommended for all travellers; consult with your doctor to decide which malaria medication will suit you best. Vaccinations are recommended for hepatitis A, hepatitis B, typhoid and meningococcus (during the dry season between November and June). A yellow fever vaccination is required for entry to Chad for any persons arriving from countries with a yellow fever risk. Travellers may also be advised to ensure they are up to date on vaccinations for tetanus-diphtheria (every 10 years), MMR (measles, mumps, rubella), and polio. Those who intend to spend a lot of time outdoors and who may be at risk of animal bites should consider a rabies vaccination. The infection rates of HIV Aids in Chad are alarmingly high and visitors are advised to take precautions where necessary. Travellers should drink only bottled, filtered, boiled or chemically-treated water.
Medical facilities in Chad are extremely limited and travellers should ensure they have comprehensive health insurance as the treatment of any serious ailment will most likely require medical evacuation. As medicines are in short supply any medication required should be taken along in its original packaging and accompanied by a signed and dated note from a doctor detailing what the medication is and why it is needed.
Safety
Constant political turmoil makes safety in Chad far from certain. The British Foreign Office has travel warnings in place for the entire country, advising against all but essential travel to Chad. In fact, the only area of the country with no travel restrictions is the capital city of N'Djamena; however, the city has a high rate of violent crime and attacks on foreigners are fairly common. Terrorism and petty theft are high threats in both the capital city and elswhere throughout the country, and travellers should avoid carrying valuables or wearing jewellery, as well as walking or travelling at night. A state of emergency remains in place in the Lake Chad region and this area, as well as within 30km of all borders, remains extremely volatile. Tourists are extremely discouraged from travelling to these areas.
Emergency Phone Number
17 (Police), 51 77 26 (Medical), 18 (Fire)
* For current safety alerts, please visit
Foreign travel advice - GOV.UK
or
Travel.State.Gov
Money
The Central African CFA franc (XAF) is the official currency of Chad (along with five other central African countries). It is divided into 100 smaller units called centimes. Chad is a cash economy and credit cards are seldom accepted. Foreign currency can be exchanged at a few hotels and banks in the capital city but the process is expensive and time consuming and the banking services are unreliable. There are also very few reliable ATMs in Chad.
Exchange Rate
Not available.
Embassies of Chad
Chad Embassy, Washington DC. Tel: (202) 462 4009.
Chad Consulate, Ottawa. Tel: (613) 236 4861.
Foreign Embassies in Chad
US Embassy, N'Djamena. Tel: (235) 2251 70 09.
UK Honorary Consul, N'Djamena. Tel: (235) 9054 64 47.
Canadian Embassy, Khartoum (also responsible for Chad). Tel: (249) 156 550 500.
South African Embassy, N'Djamena. Tel: (235) 2252 4006.
Customers
Customs and culture in Chad vary quite a bit in terms of the diverse tribal and religious backgrounds of the local population. Some etiquette in Chad is, however, universal, such as respect for elders and maintaining a reserved demeanour in public. Smoking and drinking in public is frowned upon. Women should dress conservatively with their shoulders and legs covered, and shorts are generally not worn in public. Visitors to Chad should respect the restrictions in place during Ramadan, including not eating during the day. Never attempt to shake a person's hand, give or receive money, or eat with the left hand as it is considered unclean. Tourists should be wary of photographing any military or government buildings.
Business
Chad is consistently one of the lowest ranked countries in the world for ease of doing business, according to the World Bank. This is a result of the country's poverty, instability and the difficulty of establishing business connections, among other things. In recent years there has been progress in the oil sector which is hopeful for the country and increasingly attracts expats and foreign business.
Dress is conservative and behaviour formal in business meetings. Small talk is important. Meetings seldom start punctually, but offense may be taken if you are late. The average working week runs from Monday to Saturday: 7am to 1pm from Monday to Thursday; 7am to 10.30am on Friday; and 7am to 1pm on Saturday.
Tipping
Small tips for good service are appreciated in Chad. Service charges are not usually included in restaurants and tips of about 10 percent for waiters are acceptable. Taxi fares should be rounded up if the service is good.
Public Holidays in Chad
| | | |
| --- | --- | --- |
| | 2017 | 2018 |
| New Years Day | 1 Jan | 1 Jan |
| Easter Monday | 17 Apr | 2 Apr |
| Labour Day | 1 May | 1 May |
| Eid al-Fitr (End of Ramadan) | 26 Jun | 15 Jun |
| Independence Day | 11 Aug | 11 Aug |
| Eid Al-Adha (Feast of Sacrifice) | 2 Sep | 22 Aug |
| Republic Day | 28 Nov | 28 Nov |
| Freedom and Democracy Day | 1 Dec | 1 Dec |
| Christmas Day | 25 Dec | 25 Dec |
Overview
Chad is difficult to navigate due to its poor infrastructure and the necessity to acquire permits in order to travel outside of the capital city. With a little patience, however, it is possible to easily attain these permits, but it does complicate planning a trip! The other big consideration when visiting Chad is the danger inherent in travelling to some parts of the country. Tourists are encouraged to be very cautious and stay up to date on developments. Despite all this, Chad has great potential as a safari destination and some truly remarkable natural attractions. Destinations like Lake Chad, the Ennedi Plateau and Zakouma National Park are thrilling and unique, a delight for the few intrepid travellers who manage to reach them. Most tourists venture no further than N'Djamena, with its hodgepodge of sightseeing attractions. For those wary of travelling long distances in Chad, but keen to see a bit of the traditional culture, an excursion to the charming little village of Gaoui is a good option as it is very close to the capital city and famed for its traditional crafts and architecture. Lake Chad is sadly receding drastically, but those who want to experience this great body of water should head to the bustling port town of Bol, where boat trips can be organised.
Visitors should note that the authorities require first-time visitors to any city or village in Chad to register their presence with the local police, whenever possible.
Travel Guide powered by www.wordtravels.com, copyright © Globe Media Ltd. All rights reserved. By its very nature much of the information in this guide is subject to change at short notice and travellers are urged to verify information on which they're relying with the relevant authorities. Globe Media and UNIGLOBE Travel does not accept any responsibility for any loss or inconvenience to any person as a result of information contained above.